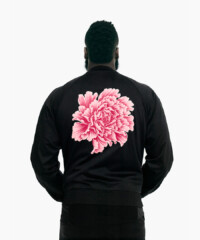 You might not expect the delicate art of floral arrangement to figure into a sportswear collaboration. But in a much-hyped drop by Y-3 in collaboration with Houston Rockets guard James Harden, you'll find just that. Released last week, the capsule collection features a bright pink botan or Japanese peony as its running motif—a nod to ikebana, the Japanese tradition of floral arrangement originated by samurais centuries ago. Though whether Harden has a green thumb remains uncertain, the NBA MVP does share certain qualities with the featured flower, which in Japanese lore is called the "king of flowers," embodying bravery, honor, and nobility.
The botanical Y-3 collection, the latest in Japanese designer Yohji Yamamoto's long-running, co-branded label with Adidas, includes a staples like a bomber, a sweatshirt, and a cropped pant and shirt set, plus never-before-seen designs like a tank top, a compression tee and a reversible blouson. On the dressier side, the collection also includes a long black button-up adorned with puff-print flowers and a refined standing-collar blazer jacket to layer over a tee or a minimalist hooded sweatshirt—tied together with the visual thread of floral imagery.
But it's the footwear that most clearly fuses Harden's game with Yamamoto's dynamic designs; after all, his mesmerizing footwork has cemented his status as a basketball icon. The all-white basketball sneakers reimagine a familiar 90's silhouette with Adidas's signature BOOST material. But for off-the-court style, try the Tangutsu's chunky slip-on design with a tapered pant, or the Bashyo, a thick-soled take on the mid-cut style that features—what else?—a trademark botan emblazoned on black.
The entire collection including apparel, footwear, and accessories is now available at Y-3 stores and online.