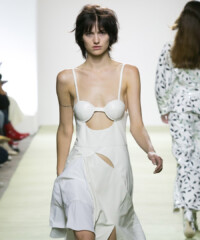 The hyper-femme, nonpareil-hued designs of Italian fashion brand DROMe's SS18 collection may look out-of-this-world, but the textiles used to create them are as old-world as it gets. Founded in 2009 by Florence-based designer Marianna Rosati, the label is rooted in Tuscan leather making traditions passed on by Rosati's father Ferrero, a longtime leather supplier for Milan's high-fashion houses. Now, as the father-daughter duo behind DROMe, the Rosatis have gone from supplying to influencing, breaking the mold with pan-seasonal leather goods.
DROMe may not be PETA-approved, but eco-conscious consumers fear not: "We only use leather that comes from the food chain, and it is tanned using technology that lessens damage to the environment." says Rosati of the line's gentle, largely natural production process. "There are chemical products out there, but [we use] more natural products to soften the leathers."
The finished product is a brightly colored, super-soft lamination. Rosati then molds the fabric into a range of cuts, from skimpy crop tops to diaphanous patent leather skirts, using various draping and deconstruction techniques. But despite the material's versatility, says Rosati, reimagining the leather's rugged, masculine image for summer-friendly fashion has been her ongoing quest. "One of my biggest challenges is making it look summery and very light. I'm always working in that direction," says Rosati. "We want to keep it light and fresh and for it to not be suffocating."
So far, Rosati's high-fashion hides have proven successful; in June, DROMe opened its first monographic storefront in Milan. Later that summer, alt-textiles queen Lady Gaga rocked DROMe's leather blouse on the Joanne World Tour. "That was so exciting. I had to read that email five times," says Rosati. "She was very easy to work with."
If Gaga's endorsement is every designer's dream come true, Rosati may have manifested it in the naming of her label, which roughly translates to "dream" in the Scandinavian languages. But according to her father, there is still plenty more dreaming to do. "It's important to grow, and doing that with only leather pieces is very, very difficult," says Ferraro. "Our dream now is to become a diversified brand."
Main image: Ferraro and Marianna Rosati. All images courtesy of DROMe.