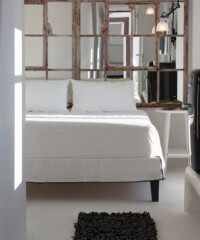 There is nothing—nothing—that rivals the post-card-perfect scene of a Santorini sunset. Immaculate white buildings set against the shimmering Aegean Sea are what people most often associate with the Greek island, about an hour, or five, from Athens (depending on whether you're arriving by plane or high-speed ferry). It's one reason the destination has earned a top spot on must-visit lists of seemingly every type of traveler, from empty nesters to fashionistas to spring breakers to serious globetrotters. But for all of Santorini's selling points—gorgeous beaches, mouthwatering Mediterranean fare, renowned local wines—it's decidedly lacking in one key area: private, über-luxe accommodations. Most villa rentals in the region tend to be small with underwhelming service, and the handful of high-end hotels—primarily located in Oia, the island's most popular village—are crammed together and completely exposed, making it impossible for prominent visitors accustomed to exclusivity and seclusion to escape the peering eyes of passersby. (See: the Kardashians, who, while visiting in 2013, couldn't avoid the frenzied paparazzi, whether they were smashing plates or wandering the caldera.)
Which is why Erosantorini, a just-completed private estate on the volcanic island, is arguably the best news to come out of Greece since the country received $8.4 billion in bailout aid this summer. Perched on a hilltop 1,000 feet above the Aegean, the property, comprised of a row of whitewashed villas about the size of bungalows, is the kind of place that makes design-lovers—or anyone with good taste, for that matter—weak in the knees. Every inch of space has been carefully considered, from the V-shaped, tri-level infinity pool—the largest on the entire island, designed to give all four villas equal views—to the funky, 1950s-inspired Smeg mini-refrigerators in every room (chosen for their vintage aesthetic and because they produce virtually zero noise). The most unique details, though, are the ones hidden in plain sight: the music playing in the pool that can only be heard underwater; a subterranean hammam outfitted with heated marble floors; a "pool cave" that allows guests to swim while shielded from the beating summer sun.
Erosantorini is the brainchild of Greek marketing mogul Pavlos Kontomichalos, who, several years ago, recognized the void in Santorini's ultra-high-end accommodations and began toying with the idea of opening an exclusive estate that catered to discerning clientele. The Athens-born entrepreneur—who spent the better part of his career as president of Bristol-Myers Squibb China before launching a number of successful health-care companies—envisioned a property that combined the privacy of a luxury villa, the attention to detail of a five-star resort and the intimacy of a friend's vacation home: A hidden oasis where someone like Bill Gates could comfortably—and discreetly—take his family on a two-week vacation. 
As he tells it, Kontomichalos scoured the island for a piece of real estate that fit his criteria: isolated while still close to town, spacious and, most importantly, with breathtaking views. He purchased the compound's two-acre plot of land from the patriarch of a prominent Greek shipping dynasty after convincing him to part with the property, which was originally not on the market. Once the deal was finalized, construction began immediately. Kontomichalos enlisted his dream team of partners—including starchitect and interior designer Paola Navone and top Greek chef Dimitris Panagiotopoulos (an alum of the famed Estiatorio Milos)—and in less than two years, Erosantorini was born. 
On a breezy September afternoon, Kontomichalos, dressed in jeans, a red polo and topsiders, visits me at the property, still glowing from its "inauguration ceremony" the previous evening. The 10-person event, with guests including the mayor of Santorini, began with a blessing by a local priest and concluded with an exquisite multicourse dinner prepared by the estate's head chef. "Greece is not generally known for its great service, but one thing we are known for is great hospitality. If we invite you over as our guest, we'll bend over backwards for you and do anything to make you feel welcome," explains Kontomichalos. "In other countries, like Turkey or Thailand or Malaysia, service is delivered in a subservient way. People don't do that here. We don't want anyone to feel like they have 20 people hovering around. We want you to feel like you're at your friend's place." It's a tradition of hospitality so deeply ingrained in the culture, he says, that Greeks have a specific word to describe it: "Philotimo! You need to experience it to understand."
Truth be told, I didn't fully grasp the concept until a few days into my trip. Five-star service was something I'd always measured in butlers, chauffeurs and maids. At Erosantorini, however, you won't find a receptionist, or even a front desk. Instead, there are two hosts—plus various behind-the-scenes staffers—who treat you like dear friends instead of patrons and always know exactly what you need, before you know you need it. (Chilly during dinner? Don't even think about going back to your room for a sweater. You'll have a pashmina draped over your shoulders before you've started the amuse-bouche.) It's a style of hospitality that strikes the perfect balance between formality and the comforts of home. 
Every meal served at Erosantorini is an opportunity for the chefs to showcase the region's best offerings, with fresh seafood—either flown in from Athens or sourced locally—taking center stage, often whole-roasted on the wood-fired oven, then garnished with herbs, lemon, sea salt and the estate's own brand of olive oil. Still, if a guest is craving a sous-vide steak, say, or a bowl of gluten-free pasta, Panagiotopoulos is happy to oblige. And while never without his chef's whites, he is not overly precious—he'll invite you into the kitchen to cook with him should you desire. "We can make everything," he explains. "But we think our guests will realize they can get a 12-plate menu dégustation at places like Jean-Georges or Per Se. Sometimes the simple cooking, our specialty, is more difficult because you have to let the product speak for itself."
Kontomichalos maintains a similar mentality about marketing his property. Until several weeks ago, Erosantorini didn't even have a website. "I don't want to overexpose it," he says. "This is going to be a word-of-mouth type of thing. People who come and experience our philotimo—that's the only way to truly absorb it." Having been there and done that, you can trust me when I say: Truer words were never spoken.