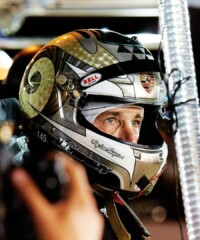 On the eve of the world's most famous automobile race, a procession of vintage convertibles, each carrying three race-car drivers, creeps through the narrow streets of downtown Le Mans, France. It's a Mardi Gras–like atmosphere where the wine is flowing and beaded necklaces are flying. Half a million revelers cover every spare inch along the Grande Parade des Pilotes route, hanging over barricades, scaling lamp posts and perching in windows to catch a glimpse of the competitors in tomorrow's 81st running of the 24 Hours of Le Mans, sponsored by Rolex.
As the cars round a corner, Team Audi's Tom Kristensen, the all-time record holder for wins at the endurance race, draws a raucous response, but another car whips the crowd (especially the teenage girls and middle-aged women) into a particular frenzy. A groundswell of security and media precedes the car shuttling this race's only all-American team: Porsche Factory driver Patrick Long, veteran driver Joe Foster, and the actor best known as "McDreamy." No, he's not there shooting pickup footage for a romantic comedy set at Le Mans; Patrick "Dr. Derek" "The Woo Woo Kid" "Extra Anchovies" Dempsey is, in fact, here to compete. And with each rotation of the antique car's hard rubber tires, he's inching closer to a personal goal he set nearly a decade ago—to find his place among the countless drivers who have come to Le Mans to conquer what Il Commedatore himself, Enzo Ferrari, referred to as the "race of truth."
Late night driver change as Patrick Long steps out and Patrick Dempsey steps in. Photograph by Paul Biedrzycki
Although a car enthusiast since boyhood, Dempsey had his first significant racing experience in 2004 when his wife, Jillian, gifted him a course at the Skip Barber Racing School. Since then, while Grey's Anatomy has sat atop prime-time ratings (the ABC medical drama is about to premiere its tenth season), Dempsey has been quietly and methodically climbing racing's ranks, competing in celebrity pro-ams as well as more serious contests, like the Grand-AM and the American Le Mans Series (ALMS). Although he raced at Le Mans in 2009, with his team finishing ninth in his qualifying class, the media hubbub surrounding him still elicits whispers that dismiss him as just another "gentleman driver"—an American actor, a dilettante of means for whom racing is just a hobby. A four-part documentary, Patrick Dempsey: Racing Le Mans, premiering August 28th on Discovery's Velocity channel, provides a strong case to the contrary, depicting him as not only a driver and team owner, but also a reverent student of the sport who is as knowledgeable as he is committed.
The comparisons to actors such as Steve McQueen (who never actually competed here, though he made the definitive film about Le Mans and his likeness currently graces every conceivable piece of merchandise in the track's gift shops) and Paul Newman (who finished first in his racing class and second overall in 1979, but vowed never to return due to the media onslaught that made him feel "like a piece of meat") are inevitable, but Dempsey says much of his inspiration also comes from groundbreaking American drivers such as Phil Hill and Dan Gurney, who each won at Le Mans nearly half a century ago. The camaraderie and fellowship among those who have thrown themselves into the crucible that is Le Mans, a race first run in 1923 in which three-driver race teams battle physical and mental fatigue to drive roughly the distance between New York City and Los Angeles in a 24-hour period, overshadow the desire to compare himself to others; Le Mans, he says, is a personal quest. "It's about overcoming conflict," says Dempsey. "How do you individually handle adversity and come out the other side? It's the great metaphor for what endurance racing is about, an attitude toward life that manifests on the racetrack. Life is about endurance."
Dempsey in the garage after his last driving shift. Photograph by Paul Biedrzycki
In showing up a second time at Le Mans—now with his own team, Dempsey Del Piero Racing—the actor is poised for longevity in the sport. He understands that his notoriety outside of racing only goes so far in the garage. "Ultimately you want respect from your fellow competitors, but you have to earn it," he says. "I don't think a lot of drivers here watch Grey's Anatomy—it's not necessarily their demographic—but through time and results we'll earn credibility." During the race, Dempsey's a stark and sentient competitor who vibrates like a tuning fork—focused and present. In addition to physical training, for the past five years he's worked extensively with Dr. Jacques Dallaire, a performance specialist who has helped hundreds of professional drivers (including three-time Formula One champion Ayrton Senna) hone their mental skills on the track. Together the two have developed a methodology that is coincidentally analogous to Dempsey's craft in front of the camera; both involve a process of self-evaluation and correction. Focus on the task at hand, pick a direction and commit; figure out what's not working and do another take (or lap).
After battling a deflating tire late in the race, the #77 car of team Dempsey Del Piero Racing ultimately finishes fourth in class, but with much reason to celebrate. Afterward, Dempsey, still in his sweat-drenched fire suit, morphs from steely pilot back to the easy-going and approachable mega-star. He invites everyone into the team's hospitality tent to eat and drink; the pit crew, the camera men, interns, Porsche big-wigs, security personnel, everyone. Dempsey is a guy who simply loves racing, and it turns out he can actually drive. And although having one of their top stars whizzing around a race track at 200mph in the middle of the night might make the Hollywood studio execs nervous (Dempsey's insurance premiums are three times those of other drivers), the motorsports world is thrilled to have him both as a competitor and impassioned representative of the sport. "In addition to demonstrating an unmatched ability to generate worldwide media attention, he also validated himself as a world-class race driver who's worthy of racing at Le Mans on his skills—and not because of his Hollywood-actor status," says Scott Atherton, President and CEO of ALMS. "He has a lot to be proud of."
Dempsey Del Piero #77 passes in front of Circuit du Sarthe's famous ferris wheel. Photograph courtesy of Rolex/Stephan Cooper
Dempsey, for his part, says if the opportunity to quit acting and race full time presented itself, he would do it. And, a few weeks later, he's already thinking about next year's competition. "I'm a little disappointed that we didn't get on the podium," he tells me, "but I'm very proud that we didn't crumble under pressure. That changes you and gives you more confidence. I want to win. Now I know we can do it. It's not a question of if, it's when."
For now, there is a juggling act between his two careers. (Worth noting: before his acting career took off, Dempsey tied for 2nd place in the 1981 U.S. Juggling Nationals.) His demanding acting schedule makes it difficult to get the seat time he needs to progress as a driver. With each race he can fit in, though, he's proving he belongs. As Dallaire says, "You give the man the seat time he needs and you better watch out, because you will be mistaken if you take him for a gentleman driver. He will hunt you down and leave your carcass on the side of the road."
Click through the gallery for more photos from the race.
MORE:
How to Experience NASCAR in Luxury
Lessons in High-Performance Driving
The Best Dirt Bike School for Pros and Beginners