You may know recognize her as Quantum of Solace's Bond girl, the recently rumored new Wonder Woman or the beauty alongside Vincent Cassel in upcoming thriller Momentum, but most recently Olga Kurylenko can be found starring as Alexandra, a sultry world traveler and fashion designer, in Waldorf Astoria's new ad campaign "The Stories Begin Here." Launched this month, the hotel commissioned the actress as well as award-wining Brooklyn-based author, Simon Van Booy, to write a short story inspiring the multi-platform campaign—shot by photographer Bruno Dayan—celebrating the Waldorf Astoria brand and all its modernized locations.
"We shot the campaign—three ads and exclusive content for the website—over one day at the Waldorf Astoria Chicago," Kurylenko tells DuJour. "It was such a pleasure working with Bruno, who I've worked with in the past, and Simon to bring to life his character and her world. It was more interesting than your typical shoot because I was playing a character and was surrounding by a troop of creatives. It felt like an authentic moment."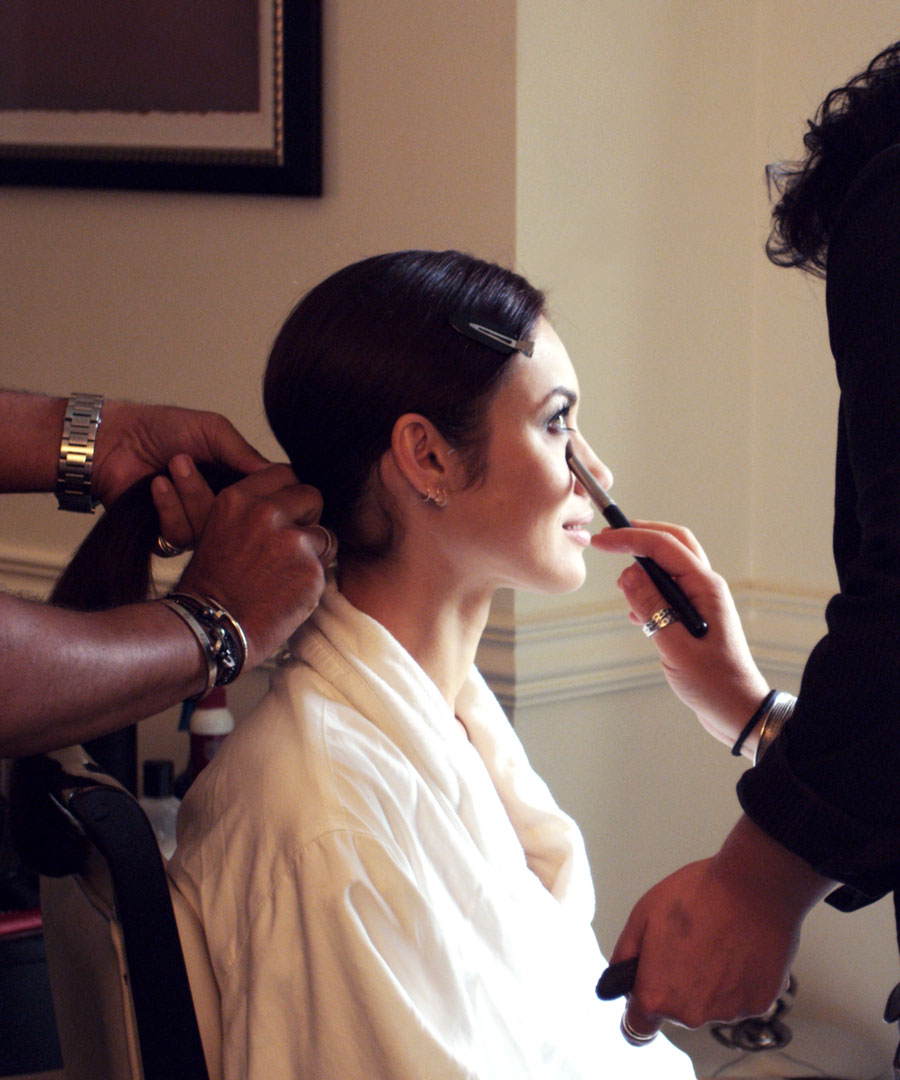 With the first chapter of the three part series now out across print, digital and social, we caught up with the Ukrainian-born French beauty to get her take on her new starring role and to find out why she's so drawn to the iconic hotel group.
How did you come to work with Waldorf Astoria and what attracted you to the project?
I have always loved the Waldorf Astoria. The properties epitomize glamour; places where interesting people go for truly unforgettable experiences. The concept they presented to me was really intriguing. Not only do I get to work with the exceptionally talented Bruno Dayan, but I get to play a fabulous character who will live on in the short story written by Simon Van Booy. It's an exciting project and one, as an actor, I really appreciate.
In what ways do you relate personally to Alexandra, the character you play in the story?
I connected with Alexandra's calm elegance and her observant creativity—and, of course, her penchant for finding inspiration while traveling the world. I've been constantly traveling for the last 15 years of my life.
Alexandra takes advantage of all the Waldorf has to offer. What's imperative when it comes to your own hotel stays?
Like Alexandra, I love a luxurious hotel with genuine service and a true personality. I love the personal butlers at Waldorf, they cater to your every need.
Any special requests you always make?
I always ask the concierge to help me to get to know a city. They are most helpful for making me feel at home, and for the best restaurants and getting into shows and making sure I don't miss out on the best art exhibitions, things like that.
On the subject of stories—the theme of this campaign—do you recall any bizarre hotel stories of your own?
The best hotels guarantee discretion. The privacy you have in a good hotel is a wonderful thing. So I'm going to keep my cards close to my chest on that question!
Read an excerpt from Van Booy's story below, and the full story here: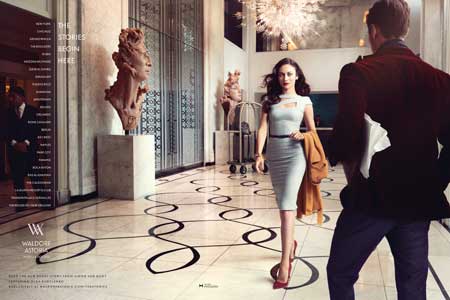 Each new collection began like this, in a city with no association. She would wander the streets, stroll through a bustling market, ride an empty bus, sip coffee in a dockside café as birds circled the open mouth of dawn. From a single thread of feeling—she would weave something new for the world, while untying the knots in her own heart.
She had been to so many places from Rome to Shanghai.
In Berlin, she had found a park bench and watched people pass in opposite directions. She felt the sole rhythm of a multitude. Then she found a shop that repaired watches and clocks. She wanted to see the pieces no one had come to collect.
Her winter collection that year was titled Pendulum.
As Alexandra stepped across the marble floor toward a bank of elevators, she noticed a man standing very still. His eyes were closed, and this gave her a chance to look at him. A manuscript was tucked loosely under one arm, and his hands were in his pockets.
MORE:
4 Lives Worth Reading About
The Return of Short Fiction
The Death of the Professional Gossip