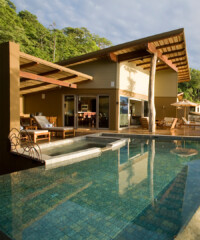 Jetsetters on the hunt for a vacation home are often plagued with the ultimate first-world dilemma: being tied down to one place. With the commitment-phobic traveler in mind, AOL founder Steve Case helped launch Exclusive Resorts, a private club that grants its members access to a portfolio of more than 300 luxe properties around the world. Vacationers can choose from a five-year Classic Membership (a one-time fee of $120,000 for 20 days of travel annually) or a Gateway Travel Card (starting at $1550 a night for up to 21 days of travel). So rather than having to decide between buying a beach-front villa in Cabo, a ski-in/ski-out chalet in Whistler or a Tuscan estate in Italy, you can actually have all three.
Built into the membership fee are perks that ensure a stress-free travel experience. If you're heading to one of the villas in Costa Rica, for example, you'll get a dedicated expert to assist with pre-trip planning and an on-site concierge to handle requests when you arrive. The team will stock the home with groceries, arrange for daily housekeeping and organize activities based on your preferences, such as a private jet-ski tour or an expert-guided ATV ride through the tropical rainforest. And better yet, they'll send a local chef to cook breakfast or dinner at your residence based on regional cuisine—in Costa Rica, that means savory chilaquiles in the morning and local seafood risotto at night.
But the spectacular properties themselves are arguably the club's greatest selling point. We'll let you be the judge. Click through the gallery to see our favorites.