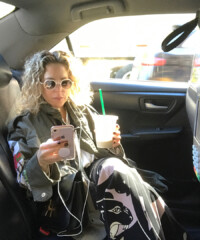 It's no secret that "influencers" have officially broken through to become as marketable as (and sometimes even more so than) the A-list set. Brands no longer seek to feature just one star throughout their worldwide campaigns but instead look to the social-savvy, Insta-perfect bloggers who have claimed their own space in a wide set of industries. From beauty and fashion to tech and money, influencers are the future (a $2.4 billion one at that).
But to the CEO and co-founder of Digital Brand Architects Karen Robinovitz, that's old news.
A former journalist for WWD, Harper's Bazaar and The New York Times and present-day digital whiz, Robinovitz and her company are responsible for the growth and strategy of bloggers who individually reach millions of followers every day. They're the new tide of "social-media-ites" currently shaking up the way people consume (and economically engage) with content. "There's a reason we've been around for seven years," says Robinovitz. "When we first started this was a young industry, nobody really considered the talent that we're now working with as 'talent.'" But clearly with DBA now boasting offices in Los Angeles, New York and Milan, she says, "the tide has turned." 
Below, we speak with Robinovitz about the social world and why you'll most likely find her roaming an art gallery or two on any given day.
What do you think would surprise someone the most about this industry? 
It's not going away; it's not getting smaller. It's only growing and getting bigger. I think people would be surprised at how real of a business it is. It is so much more than somebody's pretty pictures. There's a lot of strategy, time, production and business acumen that goes into building a formidable brand from what began as fun or influential content online. 
And about the talent you work with (like Negin Mirsalehi and Aimee Song of Song of Style), what's your overall goal in working with them? 
It's far beyond looking at opportunities that come their way and talking about the details and terms. It's guiding their entire brand growth and strategy, talking content that's authentic—that has nothing to do with the dollar sign—and putting interesting new technology in front of them. It's a very 360-approach, and it takes a village.
Before founding DBA in 2010, when do you think you realized social media was here to stay?
I was a journalist going back from 1994 to 2004, and that's around the time I started segueing into the marketing side and devoting my time to digital. I very quickly saw that there was this community online creating content and once I reached out to the people creating it and getting a sense of where they were coming from, I started to think, this is the voice, this is what's going to happen.
In any given day it seems (via Instagram) that you'll likely find yourself in a gallery or two. Do you see yourself and DBA moving towards the art industry? 
I think it's just that I've always had this passion for art, but before social media I didn't have a place to share it.  I remember being a journalist—I did a lot of fashion, I was freelance—and I was pitching a story about Art Basel when it was first coming to Miami. I was told no because I was a fashion writer. I said, "but actually, I'm a major art person; all of my personal time is spent in galleries and museums and artist studios." But this story was given to another writer because they were an art writer. I just remember thinking at that time: the world was such that everyone had to put everyone in a box. I think that's one of the reasons social media personally appealed to me in the beginning; nobody has to be limited to the box other people want to put them in.
Click through the gallery to see more of a day spent with Karen Robinovitz.