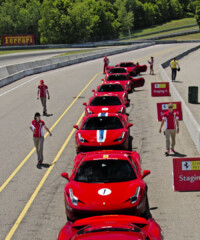 Enzo Ferrari always had reservations about selling his automobiles to the public. Faced with the reality of running a business, he at least tried to keep it an exclusive club, making an art form out of playing hard to get. But these are cars meant for more than show: An idle Ferrari, collecting dust as a status symbol, is nothing less than sacrilege. So, for the lucky few who have the means to own a Ferrari, the natural question post-delivery is "Now what?" For safety as well as appreciation, a primer in how to rein in all that Italian horsepower seems advisable.
Several manufacturers have their own driving schools, but they can often feel like thinly veiled "pop-up" test-drives safely out of the range of a radar gun. Ferrari's school, Corso Pilota,  is an entirely different experience: a family reunion or trial by fire, depending on the intensity you bring to it. Open only to current owners, the various two-day programs cost around $12,000—a fraction of the car's quarter million—and introduce the nuances of Ferrari driving to both casual motorists and those eyeing Ferrari's full-blown owner racing program, Corse Clienti. 
Ferrari offers three locations for Corso Pilota in North America—a winter-driving course in Aspen, a program at Austin's Circuit of the Americas (scheduled in November to coincide with the U.S. Grand Prix) and an extensive schedule at its North American "home track," Circuit Mont-Tremblant, a 2.65 mile gem in the hills of Quebec. While the village of Tremblant has the cobblestone charm of a European ski town, and all the luxury amenities Ferrari owners would expect, it is the circuit itself that warrants the trip. Historically the track was nicknamed  "the hump" due to the tendency of cars to become airborne as they crested over a few harrowing points, and it boasts a fluid mix of swooping curves, tight turns and numerous elevation changes. It's a challenging, quirky (and addictive) course, impossible to perfect despite its relative shortness.
Pierre Savoy, a well-known Canadian racing instructor at Corso Pilota, still finds a great deal of pleasure at Tremblant. "I have done thousands of laps around here, and every time I do a lap it's… wow," he says, while cruising down the back straight at over 120mph with a light grip on the wheel of a 458 Speciale. "It's got a rhythm that is just beautiful." The introductory course caters to drivers of all persuasions and aspirations, and a recent class was surprisingly diverse. In addition to the speed addicts and father-son duos there were several husband-and-wife teams, including one speedy grandmother whose only difficulty, it seemed, was fitting the helmet over her coiffed hairdo. While some owners have their sights set on racing a field of competitors one day, others are simply looking for a unique experience as an alternative to reading the instruction manual. The instructor-student ratio is often one to one, ensuring that everyone gets the personalized attention needed to find their own rhythm, first learning the basics of car control on the skid pad, then putting it all together on the track during an immersive two-day program.
One particularly fast learner opted to stay out on the track during that first lunch break, blazing down the front stretch as the rest of the class enjoyed Caprese salads and espressos in the control tower. Much to the delight of the students (and instructors), the mystery student was two-time world champion Formula One Ferrari driver Fernando Alonso, who had just happened to stop by and couldn't resist the opportunity to take one of the school's 458s out for a spin. 
While the program will surely improve a student's driver rating, the real value of the Corso Pilota is that it's a big, welcome-to-the-family hug from a historically reclusive manufacturer that is now fostering appreciation through inclusion. Enzo's daunting legacy will always loom over Ferrari, but he simply wanted his automobiles to be appreciated for what they are: rolling objets d'art. And turning patrons into lifelong aficionados benefits both sides. For buyers first lured in by the trademark red paint job, or the unmistakable exhaust note of a revving Ferrari, a few days spent at the Corso Pilota at Tremblant only sets the hook deeper. As one participant casually mentioned while waiting to practice spinouts, he'd just bought his 19th Ferrari, drives them all regularly and sees no end in sight—just the type of fervor that might make the ghost of a stoic patriarch in dark sunglasses crack a smile.  
Below, take a spin around the track in our exclusive video.
MORE:
Meet the Teeny-Tiny Cars Of Tomorrow
Jaguar's Road Rally
A Tour of Alan Wilzig's Driving Course