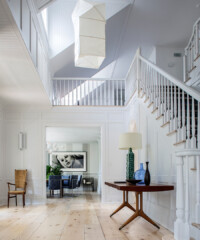 Unfettered views through open fields and scattered old-growth trees give the light at this Wainscott, New York, home a Hopper-like quality. And the moment acclaimed Manhattan interior designer Timothy Brown first entered the existing 6,500-square-foot structure, he immediately set out to underscore the property's airy aura.
"It's kind of a funny story," says Brown of the project's genesis. "I call it The Brady Bunch house." The client, a mother of three who owned another residence nearby, had recently remarried to a man with two children of his own, and her former house could not comfortably accommodate the couple's combined flock. So when a six-bedroom, eight-and-a-half-bath house just down the road came up for sale, they jumped at the opportunity.
The first order of business was modernizing the layout and lightening the interiors, which had been dragged down by "stodgy, big, fat upholstered sofas with floral fabrics," says Brown, and a "very stuffy and Old English antique feel." Fireplaces had to be modified, floors refinished, walls repainted and a new bath and closet in the master installed. Traditional elements were disguised rather than removed. Outdoors, a completely new landscaping scheme came into play, bestowing an easy elegance to the generous exterior spaces, where the family likes to entertain groups alternately small and large.
"We went into this thinking, Let's make this more modern, keep it spare, paint everything white," Brown explains. "We just didn't want the house to feel heavy." Once the primary living-room-sofa upholstery was selected—in a solid cool-gray color—the other fabrics, like those on two striped swivel chairs in the adjacent seating area, organically followed suit. "It's very intimate while still being open," Brown says of the ground-floor gathering spaces.
Artwork from the owners' pre-existing collections—especially a large photograph by Ryan McGinley of a naked red-haired woman lying belly up in a field—also played a key role in the overall design approach. Although light-and-neutral hues do a starring turn, the client is equally fond of discovering promising pops of bright color.
Ultimately the house had to be livable, from stem to stern. Despite more delicate additions—Carrara marble countertops in the kitchen, a large Noguchi paper lantern in the foyer—it was critical that the family and their guests feel "like you could come in with sand on your feet or wet with a swimsuit on," says Brown, "and just plop down anywhere."