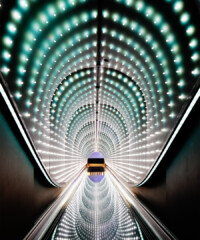 Palace Green is the most exclusive street in London, home to embassies and foreign-born plutocrats who have bought their way onto the top rung of British aristocracy. Armed sentries patrol the tall gates. Across the street, in Kensington Palace, is the residence of Prince William and Kate Middleton. But one house sits in the middle of the street, between the homes of an Indian steel magnate and the Norwegian ambassador. This stately red-brick Georgian façade hides the very unnatural habitat of Tamara Ecclestone. The jet-setting Londoner bought the historic house in 2011 and spent two years transforming it with interior architect Gavin Brodin into a postmodern temple to glamorous celebration.
Spending time inside the house with its proud owner can help answer a question that's on many people's minds: What kind of woman is Tamara Ecclestone? The kind who displays a nearly life-size brass sculpture of herself eight months pregnant. The kind who buys a Birkin bag in every color and displays them in purpose-built cubbies like the rare totems of some long-lost pre-Columbian civilization. Many of the contents of Ecclestone's home seem to stretch credulity, as if she were trying to condense the entire urban experience of being an heiress into a single space, albeit a very large one. There is a salon with a nail bar and hair station, a movie theater, a subterranean pool and Jacuzzi, a bowling alley, even a nightclub. "We've had some great parties in here," she tells me. "Look at the scratches on the bar from people's stilettos."
Television personality, entrepreneur, budding philanthropist, Ecclestone, 31, is most famous in Britain for creatively spending her share of the fortune amassed by her father, the Formula One chief executive Bernie Ecclestone. If you don't read Hello! magazine or British tabloids, you might not be familiar with her more recent exploits: the reality show (Billion $$ Girl), the heartbreaks (one boyfriend blackmailed her, another's philandering was caught on video), the arrival of her white knight (Jay Rutland, a dashing stockbroker turned real estate developer), the French Riviera wedding (Elton John and Lionel Richie performed), the baby girl (Sophia), the line of posh hair products (Show Beauty), the expanding network of blow-dry bars in Dubai, Hong Kong and Notting Hill.
Vainglorious, vapid, vulgar—Ecclestone has heard all of the above, and worse. She once said bad press made her "want to run a warm bath and cut my wrists." There are subgenres of British newspapering devoted to her taste (or lack thereof) and the ethicality of her conspicuous consumption. "I'm not a spoilt, ungrateful brat who doesn't know the value of money," she said during one interview. "I'm so grateful for everything I have. My dad worked so hard for it—why should I feel ashamed?"
Her strenuous dedication to luxury is so uncomplicated, so unself-consciously transgressive, that it almost comes across as innocent. She doesn't laugh off her Playboy cover, or say she regrets it, but instead keeps a blowup of the magazine hanging in her home next to images of idols like Marilyn Monroe and Brigitte Bardot. Why these women? "Simply because I like them. I think they're beautiful."
It is late June and Ecclestone is sitting in her breakfast room, wearing gauzy white pajamas. Her very green eyes are heavy, her glossy mane is swept up, her face aglow. She just flew in from a vacation in the Bahamas where a photo she Instagrammed of herself breast-feeding in the hotel pool erupted into a minor Internet controversy. She tells me she designed her house to be a "family home" and talks fondly about her own childhood house, with her Croatian model mother feeding everyone spaghetti Bolognese.
"I wanted a house that was like that, that wasn't a museum, that was homey and I could play in," she says. "This is obviously very grand, but I didn't want it to feel cold. I didn't want it to be overly modern."
Ecclestone speaks with a posh accent—what they call Sloane Ranger here, a reference to Sloane Square, where Ecclestone attended the exclusive girls' school Francis Holland. Its motto: "That our daughters may be as the polished corners of the temple."
Despite all her heiress excesses, Ecclestone has begun a new life centered on motherhood, and it's hard not to be disarmed by her doting on Sophia, whom she calls "monkey." Photos of her daughter hang in dizzying abundance on nearly every wall. Being a mom has also had the ironic effect of shrinking the house for Ecclestone, since she now spends all of her time in the kitchen cooking for Sophia, in the family room playing with her or in the bedroom where they sleep together on an emperor-size mattress.
"It's amazing how when you have a baby, how you think you're going to live is completely different from how you do live," she says. "I don't care so much about so many things. I have a lot less free time. The things people say about me don't bother me anymore. Not wearing nail polish doesn't bother me anymore." She looks down at Sophia and smiles. "But it's all worthwhile, because you're such a gorgeous little monkey!"