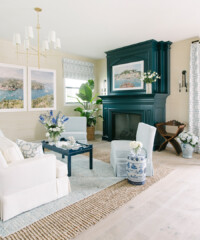 You've probably seen the iconic aerial photographs of beach scenes, either on Instagram, a hotel wall or even in a friend's coffee table book. The famed photographer is Gray Malin, and he has been exploring the world for years, capturing the essence of each epic destination he stops in. From the beaches of Croatia to the slopes of Aspen, Malin is inspired by adventure and finding the beauty in any scene he encounters. Malin's most recent adventure took him to a destination closer to home though; his own home. Creating an interior space that reflects your personal aesthetic, offers a welcoming atmosphere and cohesively blends with the rest of your home design can be challenging. This is why Malin teamed up with Homepolish designer, Shana Wardle, when approaching the transformation of his master bathroom.
Over the course of four months, Wardle worked side-by-side with Malin to reimagine his originally bright but stark master bathroom into a warm sanctuary that perfectly complements the master bedroom. With an aesthetic inspired by Lyford Clay, Malin's master bedroom combines unique patterns, an understated color palette and of course, a selection of Malin's own calming wall art. The elegant bedroom space is playful while maintaining a level of sophistication that Malin wanted to see reflected in the adjacent bathroom. First, Wardle lined the bathroom walls with Bambu link wallpaper that continued into the bedroom entryway and the window coverings. The serene light blue accents perfectly connect the two spaces and allow for a breezy resort vibe.
"Working with Homepolish allowed me to take this redesign a step further and realize my perfect space. In working together on the wall decor and incorporating my photos, Shana was able to help identify images that wouldn't take away from the overall aesthetic, but instead, bring it even more full circle," Malin says of the creative process. As a photographer, Malin admits that selecting wall art was one of the most difficult decisions during the design project. He says that the calming beach aerials from his À la Plage and the landscapes from La Dolce Vita would enhance the seaside vibe that he was aiming for but with such a wide-open wall space, the options seemed endless. Upon selecting a statement image, Malin worked with Wardle to work in additional scenes from Whitehaven Beach in Australia and of volcanic rocks in Hawaii. "These photos add to the room's inviting charm – I love being greeted by them at the beginning and end of each day," Malin says of the selected wall decor.
In addition to incorporating Gray Malin photography, Wardle chose to include custom-designed furniture and high-hung custom window accents in order to achieve Malin's specific and personal aesthetic. "I was hesitant to add custom furniture pieces though, as I didn't want the design to feel complicated or untouchable. That said, Shana knew that custom pieces offered an unmatched opportunity to create a cohesive story and could speak to my individual sense of style," Malin admits. He adds that with Wardle's guidance, the entire design process felt seamless and stress-free. With an updated master bathroom that features a designated sitting area with powder blue slipper chairs, a patterned garden stool and jute benches, Malin says he is now able to relax and unwind in his new space.
After working with Homepolish, Malin says he has one final piece of advice for homeowners approaching an interior design project. "Be completely candid with your designer, as they are there to help bring your vision to life."
Click through the gallery above for an inside look at Gray Malin's newly designed master bathroom and the accompanying master bedroom.