What's a fashionista to do? The September issues of magazines have come and gone, and New York Fashion Week won't kick off again until February 7. Still, she—or he—now has some good options to receive one's RDA of chic.
Grace, the memoir by Vogue magazine's creative director Grace Coddington, was released with great fanfare a few weeks ago, but this week saw the lower-key publication of Empress of Fashion: A Life of Diana Vreeland.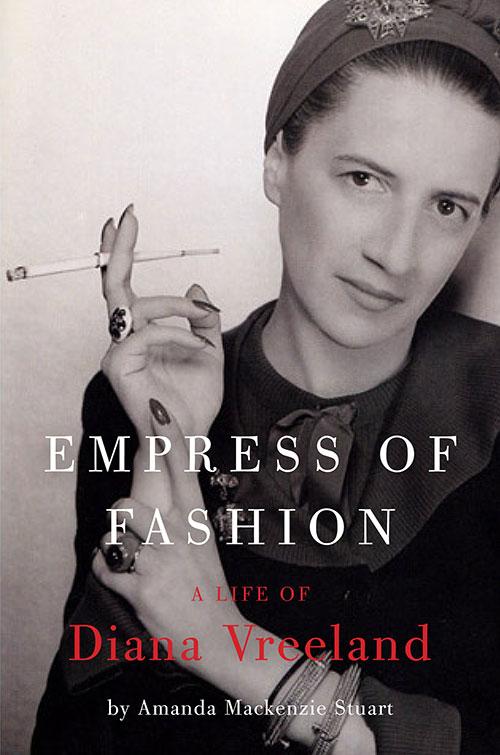 This captivating non-fiction work, by biographer Amanda Mackenzie Stuart, follows the eminent editrix—who was the subject of the recent documentary Diana Vreeland: The Eye Has To Travel—from an unpleasant New York childhood through her life in Europe, friendship with Coco Chanel and Jackie O, and her stints at titles including Harper's Bazaar and, most notably, Vogue.
What we found most gripping were Stuart's insights into what made Vreeland tick. From the personalities, art and literature that inspired DV to the work she herself made—a photo shoot gone awry atop a mountain range is a particular favorite—the book moves past the persona Vreeland cultivated and gets at the heart of who this legendary woman truly was.
"i don't think power was ever on her mind…i think she thought about getting through the day," Vreeland colleague Carol Philips said in one enlightening passage. "I think she thought about doing something exciting. I think she thought about being turned on."
And, in case you missed it, Vogue received the documentary treatment on HBO with the Dec. 6 airing of In Vogue: The Editor's Eye, an hour-long look at the magazine's fashion editors past and present. Here's a trailer; you can watch the entire film on HBO On Demand.