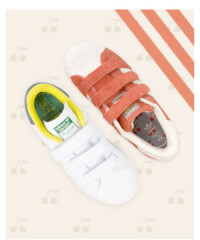 Since launching her own consulting group in 2005, Anne Ziegler has helped several leading retailers and tastemakers—Tory Burch, Henri Bendel, the Limited Brands, Vogue, among them—plan and execute each season's biggest creative and merchandising decisions. She also co-founded the recently launched website Love The Edit, which curates the best products on Amazon—a digital personal shopping experience, it helps users navigate the marketplace's 200 million products to uncover the ultimate finds.
After nearly a decade in New York City working in the fashion industry, the Princeton alum moved back to her hometown of L.A. in 2012. And as any visitor to the chic and airy Laurel Canyon home she shares with her husband and infant daughter will immediately recognize, Ziegler's domestic and working spaces perfectly embody her appealing, distinctive aesthetic. What with its mix of high and low, unexpected pops of color, artworks by close friends and understated elegance. 
Given that she makes a living by looking ahead, we asked Ziegler to name some of the items she looks forward to having close-at-hand when spring rolls around. 
"My favorite things are what brings a smile to my face and makes me happy," Ziegler explains. "I like bright and bold as much as I like neutral and classic. I really think that what you wear and how you decorate should always be fun, otherwise, what's the point? With spring upon us, I chose these items with the vision of longer days, brighter colors and more time outside with friends and family in the near future."