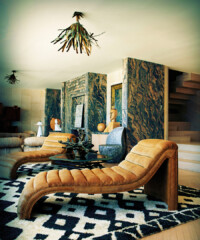 The first design overhaul that decorator Abigail Ahern ever made might have also been her most daring. Over the course of one afternoon, Ahern—whose new book, Color, is out now—painted over every white surface in her home with Farrow and Ball's edgy, deep grey shade Down Pipe. The lesson Ahern, who's worked with clients including Emma Watson and Robert Downey Jr., learned was that taking risks is always worthwhile.
"You're not going to get the jaw to hit the floor if you don't push it," she says. "You need to break a few boundaries to get something really memorable."
While Ahern admits it takes a certain amount of confidence to start switching over from pale hues to bold tones in your own home home, she says if you start small, using color quickly becomes addictive. "Start by painting a wall in a color slightly out of your comfort zone," she advises, "then tie it into the room by picking up that color with a few accessories. It's amazing how it transforms a room; it's such a game changer."
On the eve of the release of Color, Ahern spoke to DuJour about rooms that incorporate color and texture in the most daring ways and why she loves them.