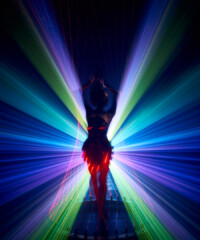 Right in the heart of SoHo sit two historic residential properties that retain a distinct narrative inscribed in their walls. It's a place where art influencers and fashion bigwigs once lived and worked inside their airy lofts. Today, those buildings—25 Mercer and its neighbor 27 Mercer—are being transformed into luxury condominiums by GDSNY, an international real estate development and design consultancy firm helmed by Michael Kirchmann. But instead of demolishing the rich history, Kirchmann is inserting it right back into their foundation, literally.
Celebrated artists are invited to display their craft inside the construction site-turned-art studio as it undergoes development. First up were graphic artist Shantell Martin and laser light artist Matthew Schreiber. Martin contributed two works to the space—a hard line pen drawing over the fourth floor elevator doors and a spray paint installation along the ceilings, walls and floors—shot by professional photographer Roy Rochlin. Schreiber, a protégé of James Turrell, put together an impressive laser installation and performance shot by renowned photographer Nigel Barker, who couldn't have been more excited for the task.
"To have the ability to shoot in a space that has character and a story to tell is very exciting," says Barker. "It really is the spice that makes artists tick."
Here, Kirchmann chatted with DuJour about his big plans for 25-27 Mercer—set for completion in the summer of 2016.
Talk to me about the history of these two buildings.
SoHo is home to about 250 cast-iron buildings, and 25-27 Mercer are two of the originals. The neighborhood has an incredible art background and Mercer Street does as well. Former residents of 25-27 Mercer include Swedish designer Johan Lindeberg, architect Annabelle Selldorf and French photographer Simon Chaput, who lived there for many years in the '80s.
How was Matthew Schreiber's laser installation brought to life?
Matthew had precalibrated the lasers before arriving. There's one central piece, which went through an atrium space in the ceiling stripped down to the original beams and fabric. Then, there was another series of lasers that projected from the sides creating a crossover effect. As ballet dancer Kathryn Boren performed her choreography, Matthew controlled the lasers in unison. Kathryn's metallic dress reflected the lasers and added a beautiful extra dimension. It was a pretty phenomenal experience.
We want the people who will ultimately live here to understand the importance of the buildings' history. These various performances and installations build on the mythology of the buildings, and that's very important for us. These are not cookie cutter projects; they come with a lot of authenticity.
How long do the installations stay up for?
The buildings are undergoing transformation on a daily basis so the longevity of the temporary pieces is dependent on where we are in construction. Our hope over the coming months is to invite more artists to participate as we move further along.
Who can view the installations?
It's very restricted access. It's in production, so entry is tightly controlled. The intent is to record them through photography and then share with others.
What's your design inspiration for the luxury condos?
We are going to great lengths to preserve as many details of SoHo's cast-iron history, from metal shutters to cast-iron columns and so forth. We're juxtaposing that against a very Scandinavian style of minimalist design. Everything will be beautifully designed and beautifully sourced. We want the end product to be a piece of art as well.
Main image photographed by Nigel Barker