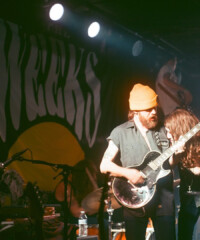 The Weeks, the Nashville-via-Mississippi based band, recently released their newest album Easy. The band has performed together since they were 14-years-old, and although there've been a few changes throughout the years, the band's sound is rooted in traditional rock and roll with a southern flare, courtesy of their upbringing in Mississippi. 
"Growing up in Mississippi has shown me some of the most amazing people who can make a beautiful life out of nothing. We appreciate what we have and are confident in what we do. Since we started, as stubborn 14-year-olds, we've never second-guessed what we're doing or how we're doing it," lead vocalist and lyricist Cyle Barnes says of his Southern roots.
The band has toured with Kings of Leon, Local H and The Meat Puppets, and are currently headlining their own U.S. tour. We caught up with frontman Barnes to chat about the new album, the band's most memorable performance and what growing up in Mississippi has taught him. 
It took only two weeks to record Easy. Was that a typical process?
Kind of. We'd been on the road pretty heavily for the last three years. We had a few days off here and there and we'd try to write but it wasn't conducive for being creative; we really wanted to have time to hang out and enjoy each other while we write. We've been doing this since we were 14 and for some reason we still actually enjoy each other. So we scheduled to meet at the band house a couple times a week to cook and party and then at the end of the night we'd write a bit. Before we went into the studio we had written 25-30 songs. Once we were done recording we had the painful process of whittling down the list.
Do you think there is an overarching theme throughout the album?
Well, we tried to have a lot of different storylines throughout. We wanted it to be a straightforward rock and roll album. We also wanted there to be fun songs and a few with a more serious tone. I write all the lyrics so, being on the road for so long, you pick up on a lot of little things and try to write about things you see in passing, through a band window. You can think back on all the things you've done and where you've been. 
How do you think growing up in Mississippi has influenced your music?
We definitely have a southern-style to our music in the traditional sense of southern rock. Growing up in Mississippi changes the speed and pace at which we do things. We never want to rush the things we do. As far as our band is concerned, if we can be organic and make it happen and not force it on anybody, hopefully people will listen to us. I think that people's mentality in Mississippi has always been to take the hand you're dealt with a smile and try and make the best of it. We appreciate what we have, what we can do and what we can give our fans.
What has been the most memorable performance for you?
One of the first times we ever performed in the United Kingdom–we opened for Kings of Leon. It was our first arena show. It was absolutely insane. Just to be able to perform in front of that many people was so surreal. While we were over there we also played The Windmill in Brixton. It's this tiny, hole-in-the-wall bar and we had this surprise show there. They have a dog that lives on the roof and it was just an insane contrast from the arena show.
What is an artist or band that fans would be surprised to know you listen to?
We all listen to a crazy amount of weird stuff. We listen to a lot of old, soul music. Stuff to make us move and dance. Some bizarre, early 90's music is good to put a weird vibe in the van. Alan Jackson is always fun. As far as soul goes, we like the super raunchy, soul songs that are fun to drunkenly sing in the van.