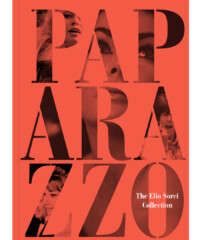 Over the last decade or so, we've come to identify paparazzi as the aggressive, smarmy-looking guys who ruthlessly lurk outside of celebrity homes awaiting their next tabloid-worthy shot. But the term actually originated in the '60s, thanks to Frederico Fellini's La Dolce Vida, which chronicled a week in the life of a gossip columnist and his photographer friend, Paparazzo. Before La Dolce Vida, though, there was Elio Sorci—the man often credited with being the world's first paparazzi. Sorci's strikingly candid images capture the glitz and glamour of celebrity life in Rome from the 1950s to the late '70s. Throughout his career, Sorci accumulated over 14,000 photographs, the most famous of which pictured Elizabeth Taylor and Richard Burton kissing—revealing their storied affair for the very first time. Taylor and Burton, in addition to stars like Brigitte Bardot and Audrey Hepburn are all prominently featured in the forthcoming book, Paparazzo: The Elio Sorci Collection (Roads, November 3).
Paparazzo: The Elio Sorci Collection, by Elio Sorci, available starting November 3
Click through DuJour's exclusive gallery of images from Paparazzo.