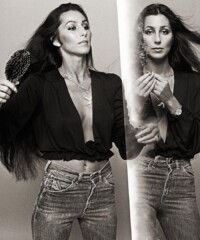 Guests interacting with the images. Photograph by Dan Guerra
While "Please Do Not Touch," most often accompanies the pieces hanging on a wall of an exhibition, that's not the case at the Morrison Hotel Gallery in New York City, where photographer and filmmaker Norman Seeff's life-size images of Andy Warhol, Diane Keaton, Ray Charles and more are on display.
In fact, guests are encouraged to flip up the Los Angeles-based artist's large-scale prints, which are accompanied by a film showing original footage from the photoshoots. It may not be exactly like spending an afternoon with Tina Turner, but it's as close as most of us will ever get.
Norman Seeff: The Power & Passion to Create is on exhibit at the Morrison Hotel Gallery starting May 17. Also, more of Seeff's images are currently on display at the Bar at Hotel Bel Air in Los Angeles.