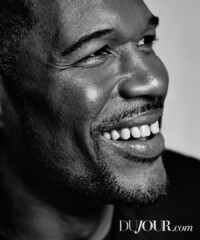 Sometimes, Michael Strahan just wants to get dirty. En route to a photo shoot in downtown Manhattan on a Monday morning this spring, the dapper NFL Hall-of-Famer and co-host of Live with Kelly and Michael looks out the window of his car as it passes a bustling construction site. The scene, he says, awakens something deep inside him: "I'm serious, because you use your hands—the grit—and some kind of testosterone thing," Strahan explains. "Talking for a living is incredible, but every once in awhile you want to get dirty."
That's likely the closest thing to a missed opportunity you'll hear the 44-year-old cop to. And for good reason: Following a 15-year career playing with the Giants, a record-breaking run capped off by a 2007 Super Bowl victory, Strahan, who's in recent years overseen the top-down renovation of eight houses in L.A. and New Jersey, set out to build a place for himself in the equally ferocious world of New York media. Following the retirement of Regis Philbin from the morning juggernaut in 2011, a slate of well-received guest appearances over a year opposite the unflappable Kelly Ripa won Strahan, in 2012, his own chair on the morning show, which is now seen by some 4 million viewers daily, often besting Ellen in the ratings war by double digits.
Last month, ABC announced that he would be leaving Live after a stellar run to join the network's flagship news-talk program, Good Morning America, where he's been a special co-host, full-time this fall. Asked about the much talked-about shakeup, Strahan seems graciously nonplussed. "I'm looking forward to moving to Good Morning America full-time, but I loved being at Live," he says. "It's a great show, great people and I'm very fortunate to have been a part of it."
A large part of his popularity is that he's mastered the seemingly effortless, off-the-cuff quality endemic to the morning-coffee-talk platform. "I love spontaneity and uncertainty," he says of performing live, a skill he compares to a conductor directing an orchestra. "Not knowing what's going to happen from second to second keeps you very present."
Michael Gelman, executive producer of Live, picked up on that elusive star trait early on. "Michael has charisma, a big, warm, playful personality, and has the rare ability to be himself on camera," Gelman says. "But he also has that special hard-to-define quality, that 'x-factor' that makes him stand out."
In addition to standing out on-air (the Emmy-winner additionally serves as an analyst on Fox NFL Sunday, a gig that has him flying every weekend to L.A. for taping, and will start hosting the ABC primetime game show $100,000 Pyramid this summer), Strahan maintains a head-spinning list of other professional titles. His recently launched line of menswear and accessories for JCPenny—a product born from his desire to not "look like a bum," he says, when having lunch with someone after working under hot set lights all morning—is gearing up to add to the collection an athleisure line, whose pieces he's also designed from a set of his own sartorial preferences. (Strahan, who's right-handed, made sure the golf pants don't have a zipper on the back right pocket, yielding easy access for his glove.) He's also partnered with his longtime friend, Constance Schwartz, to form SMAC Entertainment, a talent management, branding and production company that produced the Nickelodeon Kids' Choice Awards, an HBO documentary series and keeps a roster of clients including sportscasters Erin Andrews, Deion Sanders and Curt Menefee, among others.
His recent book, Wake Up Happy (Atria), a motivational memoir comprising his 18 secrets for living a more fulfilling, joyful life, is a New York Timesbestseller. And of all his latest efforts, Strahan, who credits keeping "the right people" around him for accomplishing as much as he does, seems most emotionally invested in the writing project, which forced him to face head-on difficult and revealing moments from his past: dead-end relationships, his childhood, family issues. "You get so afraid," the twice-divorced father of four admits. "I realized that a lot of people go through their struggles and have their doubts and fears. I think our fears and insecurities and even our successes fall into the same little boat."
Moving past criticism has not come naturally for Strahan, recalling a time when he was ruthlessly teased for being overweight at 13, an experience that made him "decide to make a change," and he's quick to admit that his tremendous success has been very hard won. "I feel like in a lot of ways I had to earn everything," he says. "That's not the easiest thing, especially in this city because as much as you have success, people love to see you fail—and I've been on the end of a lot of failures." One of those pitfalls was the 2009 sitcom starring Strahan, Brothers, a critical and audience flop. "Did it bother me?" he asks of the publicized defeat. "Yeah, but it bothered me in a way, to be honest, that pissed me off. It makes me want to show that I can do better," he says. "I look at adversity as fuel."
For all the hustle, he insists that he still makes time for personal divertissements. Aside from refurbishing and flipping properties, he plays golf and hangs out with his friends whenever possible. "I try to keep it pretty normal," says Strahan, who's also building a car collection, of his R&R. "I'm a big bruncher"—Bubby's is a favorite spot—"I'm not a club guy, but my buddies will go to a cigar or a hookah bar, very casual stuff."
When talk turns to whether another marriage might be in the cards, Strahan sits back and flashes his million-dollar smile. "I don't want to say 'no' to marriage, but I just don't want any more kids," he says, "I'm a sucker for marriage, man." But more than anything else, 10 years down the road, Strahan, who jokes that the title of his next book will be Wake Up Happy, Go To Bed Mad, wants to be retired and traveling. "Hopefully somewhere warm," he says, "and you know—just kind of simple."
In main image: Tuxedo jacket, $260; pants, $120; shirt, $50, COLLECTION BY MICHAEL STRAHAN, Classic Fusion 8-Day Power Reserve watch, $15,100, HUBLOT, hublot.com.
Makeup: Michelle Champagne  
Hair: Diane D'Agostino