It's considered bad luck to so much as utter the word Macbeth inside a theater, but the Lincoln Center Theater production of the Shakespeare favorite, currently on Broadway, is nothing if not blessed. Not only does the tale of power and corruption feature an inimitable Ethan Hawke as the titular tyrant, but it also marks the Broadway debut of Anne-Marie Duff—the British actress beloved for her role in the  TV series Shameless—as his wicked wife.
DuJour spoke to Duff about the modern appeal of Macbeth, taking a turn on Broadway and why Shakespeare wouldn't be good for her marriage.
You came all the way from London to New York to do this show. What about Macbeth lured you here?
I was working on a production in London and suddenly, one evening before I went to bed, I got a phone call asking if I would be interested in working on a production of Macbeth at Lincoln Center with Jack O'Brien. That was it! I was just so extraordinarily surprised, because my husband [actor James McAvoy] had just played Macbeth in London so I had kind of written it off thinking I wouldn't get to do this play, certainly for a while, because of the proximity to that performance. It was just out of the clear blue sky, a lovely surprise.
Would you ever consider doing Macbeth with your husband?
That would have been extraordinarily exciting as an actress, and a nightmare as a wife! Who wants to put their marriage through that every night? Not me.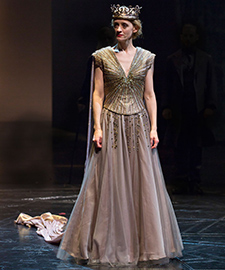 Lady Macbeth is one of the most analyzed characters in history with so many different theories on why she is the way she is. What's your take?
The thing about Lady Macbeth is that everyone has preconceptions about her, but very few people actually really know the play. They assume she's just a whisperer in Macbeth's ear or that she's the downfall of this man, talking him into every bad thing that he does. Of course that's utter nonsense. As an actor, my main objective is to flesh her out and make her as much of a human being as I possibly can. I try to encourage a kind of skewed empathy from the audience so that they feel something and have some kind of warped understanding of her.
Why do you think Macbeth remains so interesting to people? 
It's the writing. It is beautiful writing, but it also has all of these extraordinary kernels of truth about love and death and the universe and all of it. We live in precarious times politically and financially, and people are very often drawn to darkness and the seedier side of fulfilling ambition. It feels apt.
Your upcoming projects are no sunnier than Macbeth. Before I Go to Sleep and Molly Moon both seem a bit dark.  What about these roles appeals to you?
Drama always comes from conflict. In all the great stories there's a point of huge conflict or an obstacle that one has to overcome. And those are the great tales, aren't they? I don't think it's necessarily about being drawn to darkness, I think that's just good stories.
Fair enough. Is there anything that you have your heart set on doing if you come back to Broadway?
I'm so superstitious. I never say what I'd like to do because I always feel like it completely jinxes it, which terrifies me. But there are lots of roles I'd love to play. I should be so lucky.
Your run closes January 12, which is also the night that the next season of the American version of Shameless returns on Showtime. One might think you're trying to skip town before that happens. Do you watch?
I watched the pilot of American Shameless but it was just too weird because shot for shot, scene for scene, it was exactly the same. That was just too odd for us! From what I saw, it's brilliant, and I know it's terribly successful, and I'm really glad for it because we had such a ball doing it. I'm hoping that everyone does on the production here. It's odd though because it's so close to us, you know. I had no idea it was coming back that night, I don't follow that stuff.
Shakespeare's Macbeth is now playing at the Lincoln Center Theater. Click here for show details.
MORE:
Stage Legend Fiona Shaw's Directorial Debut
Keegan Allen: From Pretty Little Liars to Broadway
Evan Jonigkeit on 'The Snow Geese'