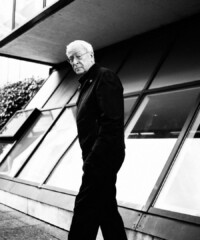 Click here to view our photo gallery featuring Hollywood legends Michael Caine, Ray Liotta, Alan Arkin, Christopher Walken, Dustin Hoffman and Hugo Weaving, shot exclusively for DuJour
MICHAEL CAINE
Growing up in London, Michael Caine wasn't set on acting. The now-iconic British star frequented a youth center to play basketball and, one day on his way to practice, he made an important discovery. "I passed the door to the dramatic society, which had a window in it," Caine says. "I could see all the prettiest girls were there, so I joined."
Although Caine, 79, went on to win Oscars and Golden Globes and even to become a knight, he's still tickled by the initial impetus for what would become his life's work. "I figured if I was in enough scenes, I would eventually kiss a girl," Caine recalls with a laugh. "And I did. I kissed all of them."
Outside of class, Caine worked in a butter factory and took small roles, often playing a servant—a skill that would come in handy later on. Caine's role as Alfred in Christopher Nolan's Batman trilogy saw him take a butler character to the limits of his duty and gave the actor—who shot to fame as the titular playboy in the 1966 romp Alfie—a whole new generation of admirers.
"The other day I was walking along Piccadilly and a group of 12-year-old Japanese girls recognized me as Alfred," he says. "I was standing there surrounded, having my picture taken, and people were wondering why all these children were interested in an old Englishman."
RAY LIOTTA
Ray Liotta was glad to take a punch. In the bloody hit man dramedy Killing Them Softly, 57-year-old Liotta sees his fair share of fisticuffs, but not in the way moviegoers might expect from him. When his character is framed for a stickup, he ends up taking a prolonged pounding from a pair of toughs. "That was one of the things I liked about it," Liotta says with a laugh. "Usually I'm the one who's doing the beating."
Liotta is best known for thuggish roles in films like Goodfellas and Cop Land, but he's adamant that there's more to him. "I've done so many movies now that it's impossible for people to watch every one," he says. "I've played a lot of other parts, but the bad guys really stand out."
And they'll continue to. In the upcoming The Place Beyond The Pines, Liotta plays a rotten cop who terrorizes Bradley Cooper and in The Iceman, he takes on the role of a mob boss opposite Chris Evans. "You might be established as a certain type, but every actor out there can do something different," he says. "The ironic thing is I've never even been in a fight."
ALAN ARKIN
Even as the funniest guy in one of the year's most lauded films, Alan Arkin doesn't think humor is a laughing matter. "If I had to pick a pocket of things I like to do, it would be comedy that's about something and has an underlying statement," he says. "Comedy tends to be overlooked as a serious form, but can have as much substance and traction as anything else."
He singles out his classic, midcentury work like The In-Laws and The Russians Are Coming, The Russians Are Coming as prime examples. "I feel the same about Argo," Arkin says. "People keep talking about what the film's about, but to me what underlies it is a situation that could have been an international conflagration of enormous proportions, which was solved through ingenuity and imagination and without a shot being fired. That to me is the miracle of the film."
Arkin's hopes are similarly high for upcoming projects, including Stand Up Guys, a geriatric gangsters comedy costarring Al Pacino and Christopher Walken, The Incredible Burt Wonderstone with Steve Carrell and Jim Carrey, and a sequel to his 2011 book Alan Arkin: An Improvised Life.
At 78, he's working steadily and relishing it. "I used to think that acting was serious business and I had to be miserable, but then I started having a good time," Arkin says. "That doesn't mean I'm not doing the work, but it means I want the work to be enjoyable."
CHRISTOPER WALKEN
Christopher Walken isn't known for milquetoast roles. The 69-year-old actor, famed for oddball parts and an occasionally unnerving elocution, has played everything from a throat-slitting sadist in The Comfort of Strangers to a onehanded man bent on revenge in the 2010 Broadway play A Behanding in Spokane. And while Walken's also capable of wicked comedy, these days he's playing slightly cuddlier characters.
"For a long time, I looked younger than I was," Walken says. "And then I got to a certain age where I started to get parts for fathers and uncles and grandfathers. It's opening a new path."
So far, it's serving him well. Walken's recent A Late Quartet finds him playing an ailing cellist in a posh Manhattan string troupe alongside Philip Seymour Hoffman and Catherine Keener. Up next, Stand Up Guys features him as a grandfather—well, a hit-man grandfather— learning to make amends.
"Actors who get to work and make a living over a long stretch of time, they're fortunate," Walken says. "To be viable over a period of time, you have to be good at what you do, but you also have to be lucky."
Whether the new spate of nice-guy parts will stick to Hollywood's consummate creep is anyone's guess.
"That's been a quality of my career: I never know what I'm going to do next," Walken says. "There are actors who know what they're doing a year from now. I've never known." Perhaps that's what has kept his work fresh, funny and frightening for all these years.
DUSTIN HOFFMAN
If working in front of the camera for almost five decades seems preparation enough to take a turn behind the machine, it's not. "What surprised me after doing this for 45 years is how much directors keep from an actor," says Dustin Hoffman, whose first film as a director, Quartet, comes out in January. "It's like war: you can prepare, but nothing goes according to plan."
While Hoffman—who's worked with greats like Mike Nichols, Barry Levinson and Hal Ashby—has directed theater and benefitted from a cast including Maggie Smith and Michael Gambon, helming this touching, slyly funny story set inside a home for retired musicians was still a challenge. "Suddenly you're in the middle of a scene and don't know why you thought it was so important," says Hoffman, a young-looking 75. "Many directors don't like to admit when they've been wrong, but actors welcome it. At one point, Maggie Smith said to me, 'I don't know what the fuck this scene is about,' and I said, 'You're right, I don't either.'"
Hoffman's gimlet-eyed direction did the trick. Quartet garnered critical praise and standing ovations on the festival circuit and is a strong first step in a new direction. Not that Hoffman himself will concede that point. Asked if he was thrilled with the film's success so far, he cracked, "Not really. I keep waiting for God's other shoe to drop."
HUGO WEAVING
There are two types of people who recognize Hugo Weaving. "If I was in Sydney and bumped into someone who goes to the theater a lot, they would know me from the opera house," says the celebrated Australian actor, who seems to specialize in intellectual stage work and massive blockbusters. "But a majority of people would know me as Agent Smith."
At the time of this interview, Weaving, 52, was indeed most recognizable for his role as the hard-to-kill G-man in The Matrix trilogy. But that was before Cloud Atlas. In the film, directed by Matrix masterminds Lana and Andy Wachowski, Weaving plays six different characters—including one that isn't male and one that isn't even human.
For Weaving, whose next big project is Peter Jackson's new Hobbit trilogy, the challenge was thrilling. "Any character you do is complex," he says. "It's always a little scary, and if it's not why would you want to do it."
And as far as taking on roles that endear him to either Sydney's theatergoers or multiplex hordes, Weaving is at peace with his fate. "I think everyone is pigeonholed and that's fine," he says. "As long as I can keep creating and being excited by the material I'm working on, I'll be forever grateful."