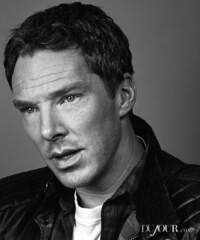 It's long been a goal of Edward Norton's to work with director Alejandro González Iñárritu, so when the actor got his hands on a copy of the script for Birdman, he knew he had to act fast. "I think I read the script at 2 a.m., and I was meeting Alejandro for coffee by nine," Norton says. "To me it was a no-brainer. Immediately I was very excited about doing this."
His enthusiasm paid off. As Mike Shiner, a veteran stage actor and confirmed hellion who complicates the plans of a one-time action star (Michael Keaton) staging his comeback on Broadway, Norton's fantastic. Furthermore, he says that he relished the chance to play the sort of ham he'd encountered during his own life in show business. 
"If you're someone who comes up in theater, Mike is immediately recognizable as one of those wonderfully larger-than-life characters," he says. "There are those actors you hear about—famously brilliant and tempestuous—who become part of the romance of life in the theater. When I was reading Mike, it brought to mind those stories." For Norton, playing that kind of grandstander was a long time coming. He says, "It was the kind of experience you aspire to when you get into this business."
Jacket, $1,995 for full suit, BURBERRY TRAVEL TAILORING, burberry.com. Shirt, $195, VINCE, bloomingdales.com.
Go behind the scenes at DuJour's photo shoot for Hollywood's most incredible actors of 2014