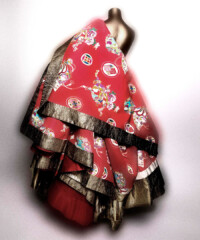 Entering this year's Costume Institute exhibition, the ambitious and extravagant China: Through the Looking Glass, is akin to opening the door to Wonderland. The lights are dim, the pathways twisted, the walls lined with mirrors in a disorienting display of reflective surfaces. But don't fret, dear reader. Once your eyes adjust to the dark, you'll see there are no jabberwockies here—though you may find a dragon or two. 
Indeed, disorientation is exactly what Costume Institute curator Andrew Bolton and his team wants you to feel as you walk through The Metropolitan Museum of Art this summer. China: Through the Looking Glass is not just a presentation of beautifully crafted Asian artifacts but actually a dialogue about how Western designers interpreted those artifacts, and how that manifested into fantastical creations. The resulting exhibition clocks in as the largest that the Costume Institute has ever put on, the result of a collaboration with the Asian Art Department and several anonymous Chinese donors, a first for the Met.
Determining how to display the subject matter was no easy feat: How was the team to demonstrate the Western world's love affair with Eastern exoticism in a way that doesn't devolve into stereotypes? Bolton's solution lay in embracing the conversation between the East and West, in allowing the objects and fashions to inform each other through nostalgia and fantasy, in essence showing the Western world's view of the Eastern world rather than a direct representation. A viewer can see how a film still of lauded actress Anna May Wong in the 1931 Daughter of the Dragon influenced the black bead embroidery in a 2011-12 Ralph Lauren dress, for example, or how the qipaos worn by Chinese actress Hu Die (also known as Butterfly Wu) in the 1930s inspired the shape and construction of an early twenty first century Jean Paul Gualtier haute-couture evening gown. Film plays a large role in the exhibition, being one of the first mediums through which the Western world got to experience the culture and design of the East. 
Fashion, fine art and film wrap in a dream-like maze through the Anna Wintour Costume Center and the upstairs Chinese galleries, the special display extending through the main museum's permanent collection. From the imperial court robes of the Qing dynasty to the illuminated bamboo forest installation, there's something incredibly special to see at every turn. 
China: Through the Looking Glass is on display through August 16, 2015. Click through the gallery to see some pairings between the East and West.