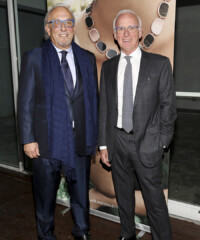 We couldn't tell which had more wattage at the Roberto Coin store opening in Miami this week—the charming Italian designer's fine jewelry or his budding fan Dame Joan Collins.
"I discovered his genius when I bought my first piece, a ring, in Las Vegas," she said, hoping to catch a tan while in town too. "Unfortunately, I haven't been able to find any sun here." 
Chilled attendees, including some fresh from Ash Wednesday due diligence, perused bold collections, such as Pois Mois, Princess and Golden Gate. "We were only able to squeeze in 10 percent of some 5,000 pieces," said Coin.
Click through the attached gallery to see photos from inside the grand opening party.