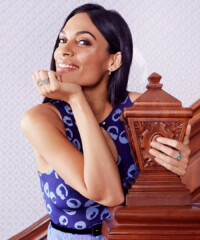 Diamonds have transcended far beyond pop culture mainstays such as Marilyn Monroe's song "Diamonds Are a Girl's Best Friend" and more recently, Rihanna's "Diamonds." Though diamonds will always evoke sexy, feminine and seriously stunning vibes, today they are also expected to be responsible and unique, just like the strong women who wear them. Forevermark recently unveiled a portrait series entitled "Females in Focus," shot by celebrated photographer Sophie Elgort, to show off exactly how a collection of diverse women can all adorn themselves in Forevermark diamonds while maintaining their own personal style.
The opening reception was star-studded and glittering with diamonds. The support and celebration for female empowerment was at an all-time high with appearances from actress Michelle Williams, model Chanel Iman and of course, Sophie Elgort. Also in attendance were the five subjects featured in "Females in Focus," Rosario Dawson, Violetta Komyshan, Janet Mock, Cristina Ehrlich and Dr. Niamey Wilson.
Dawson commented on the photo series saying, "I like the idea of doing something around diamonds that isn't about a [romantic] relationship but rather a relationship with each other and ourselves." As she posed for pictures and admired the rest of the series, Dawson had her mom cheering her on, demonstrating exactly how women supporting women is a beautiful and inspiring idea. "I love the energy behind the series. It is shining a light on a really important aspect of our journey. Not to just work hard and be successful, but to work together and celebrate each other," she added of the female-focused project.
Another candid moment for Dawson came during the creation of her photos, shot by Elgort. Dawson explained that she arrived to the shoot while Elgort was doing her own self-portraits for the series, catching Elgort in a bit of an uncomfortable moment. "It felt really genuine and sweet. She was getting fitted and was definitely vulnerable but there was a personal energy, not stuffy at all," Dawson says. Of the same moment, Elgort says she was star-struck by Dawson and was completely freaking out about both shoots until Dawson arrived. "Talk about women supporting women; instead of judging me as I lay on the couch covered in diamonds, she made me feel really comfortable. I was really nervous and she was like, 'you go girl. You look great!' which was so cool."
All six subjects in the series are wearing Forevermark diamonds in different ways in an effort to tell each woman's story, from stackable rings to sparkly earrings. Of working with Forevermark, Elgort says, "They were so thoughtful with casting. It was about selecting women who really represent the brand an dare doing exciting things. They mean it when they say they care about women."
As far as women empowerment goes, nobody is a bigger proponent than actress Michelle Williams. Upon introducing myself, the stylish beauty was all complements, adding to the positive energy already enveloping the room. "As women, I feel we were separated for a long time, or pitted against each other. I feel like we have an opportunity now to show that when we work together we can accomplish a lot," she says of women today. "I'm equal parts excited and terrified to be alive right now. It is a time with a lot of possibility and also a lot of adversity. I feel for the first time in a long time that we have a chance as women in America, to gain some ground," she adds.
While Williams is wildly supportive of women, she's also been a fan of Forevermark since 2012. Throughout the evening, Williams wore a glamorous vintage-style statement Forevermark diamond ring, along with stackable rings and earrings. "Like most girls, I love a sparkly thing. Knowing where it came from and being able to feel good about your investment is important to me. I have pieces from when I first started working with Forevermark years ago that I still treasure," she says of her love for Forevermark. Also adorned in Forevermark diamonds, Dawson says, "The stackable rings are fun, flirty and funky. I'm usually light with my jewelry, I'm a hoops person. But I like the delicate and simple pieces from Forevermark."
The idea that diamonds can be as special and unique as a woman is a treasured notion by all the women involved in "Females in Focus." Each of the six women selected are powerhouses in their own space from being a ballerina or fashion stylist to a surgeon or photographer. Williams, after admiring a few of the photos from the series decided, "Women are tough. We're stronger when we're together."
The photo exhibit "Females in Focus" coincides with the launch of Forevermark's entry into e-commerce and the debut of their two-day pop-up shop in New York City's Meatpacking District (December 7 and 8). The Forevermark Tribute™ Collection and Forevermark Alchemy™ Collection by Jade Trau will be available on the Forevermark e-commerce site.
Click through the gallery above for a look at "Females in Focus" and the opening night.