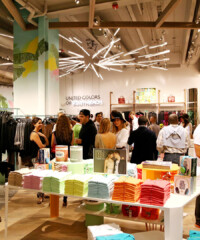 When it comes to throwing a Basel bash, United Colors of Benetton believes the early bird gets the worm.
On December 2, before the week's flood of fairs even began, the brand hosted the interactive soiree With You at its South Beach store.
Stationed at an easel all evening, Trey Speegle drew his paint-by-number flower series as onlookers sipping smoky margaritas also perused his vintage-inspired DIY kits and paint cans, the latter being an homage to Warhol's everyday objects as art.
"People like art that doesn't feel smarter than they are, as is the case with much of Basel," he says, who collaborated with Miami-based Art Conductor Dinner Club for colorful bites that mimicked his collages.
ACDC founders and perennial fashion plates Marcella Novela and Tara Sokolow Benmeleh arrived decked out in Benetton, naturally. "She's head to toe, and I'm head to skirt," says Sokolow Benmeleh.
Click through the gallery above to view more photos from the event.