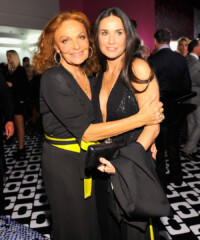 Forty years' worth of fans descended up the historic Wilshire May Company building to toast the opening night of Diane von Furstenberg's "Journey of a Dress" exhibit, charting the history of her iconic wrap dress design with both classic, contemporary and limited-edition pieces. Von Furstenberg held court amidst a sea of more than 200 pattern splashed, wrap-dress clad mannequins, welcoming fellow fashion world royalty including Jennifer Meyer and Tobey Maguire, Ashley Olsen, Gwyneth Paltrow and Christian Louboutin.
Sporting a vintage 1972 look from DVF, model Molly Sims reflected on why she continues to love the perennial piece. "It fits every body type," she said. "You can wear it when you're feeling good, you can wear it when you're feeling bad about yourself."
Cat-walker Coco Rocha, clad in a one-shoulder DVF number, fondly recalled a childhood filled with wrap dresses, thanks to her mother's well-edited closet. Festivities continued in the adjoining Studio 54-inspired after-party lounge, where partygoers flaunted their moves in their wrap-dress numbers to the tunes of DJ Alexandria Richards.
Click through the gallery above for more photos from the event.
MORE:
What Traveling the World with DVF Looks Like
DVF's Personal Chef Shares Her Recipes
As Seen at Art Basel Miami Beach