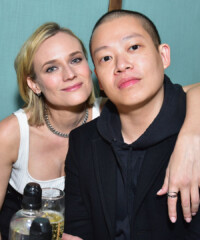 Last night, DuJour Publisher Jason Binn celebrated the magazine's Winter Issue alongside cover star Diane Kruger at The VNYL in New York. Guests including fashion designer Jason Wu, film producer Jason Weinberg, Whispering Angel's Paul Chevalier and The VNYL owner James Morrissey toasted Kruger's performance in the recent Golden Globe-winning film In The Fade.
The actress wore a Mugler Spring 2018 look and snapped photos with guests before joining Jason Wu and Jason Weinberg to chat at a corner booth.
The cover was photographed by Max Abadian and styled by Micaela Erlanger in New York for the DuJour annual awards issue. It was shot shortly after In The Fade was released and is considered Kruger's first major starring role. It's also her first time acting in a German production, which took the 41-year-old back to the country she left as a teenager. The first seeds of the project were sown in 2012 when Kruger approached Akin, the celebrated German director of The Edge of Heaven, at a Cannes Film Festival party, telling him she dreamed of working with him. "I've been waiting for a part from Germany," she explains. "I left a long time ago, 25 years, and I wasn't an actress when I left. I don't know anyone in the movie industry there."
Other guests included entertainment journalist Michael Musto, fashion designer Alejandra Alonso Rojas, and artist Bettina Werner.