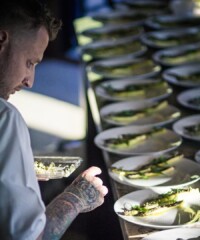 Aspen locals and tastemakers enjoyed a spectacular dinner by chef Michael Voltaggio (and his Ink chef de cuisine Cole Dickinson) while taking in amazing panoramic Rocky Mountain views on Friday night during the Food & Wine Classic in Aspen. Actress and author Ali Larter, Lamborghini's Leonardo Laviola and Food & Wine's Kate Krader came out to toast the luxury automaker's 50th anniversary and their Gallardo LP 560-2 50th Anniversary and Gallardo LP 570-4 Superleggera sports cars—on display in the driveway. (Both are available for sale at their new Denver dealership.) Over cocktails at the mansion, which belongs to Houston residents Dr. Brian and Carol Kirshon, the 20-some attendees noshed on deep-fred crispy beef tendons and Goose Island's Belgian-style vintage Matilda and Sophie ales.
Far Niente wines from Napa were paired with Voltaggio's inventive dishes like hay-smoked asparagus with medjool date sauce and fresh horseradish snow and slow-cooked beef with "turnips pretending to be beef." Larter, attending her first Aspen classic, arrived with her manager and indulged in many of the weekend's parties and tastings. She was in town in advance of her "anti-Goop" entertaining book, Kitchen Revelry: A Year of Festive Menus from My Home to Yours (St. Martins), due out in September. Guests enjoyed the sweeping sunset at the home, on the market for $16 million, before heading down the mountain in the Lamborghini of their choice and zipping off to the weekend's other events.
Click through our DuJour gallery to see the sleek new cars, plus more photos from the event.