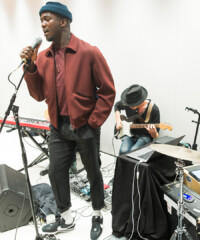 Fashion and technology converged on the fringe of San Francisco's Union Square last week for the opening of Stockholm-based Acne Studios' fifth US boutique.
Mikael Schiller, Acne Studios Chairman, and CEO Mattias Magnusson celebrated the fashion house's new tenancy with some of the Bay Area's own resident powerhouses – Zynga Co-founder Mark Pincus, Jawbone CEO Hosain Rahman, Pinterest Co-founder Ben Silbermann, Eventbrite Co-founder Julia Hartz, Dropbox Founder Drew Houston and Peek.com Founder Ruzwana Bashir were all on hand to welcome the Swedish brand to town.
The Geary Street location's unique design – and red accent color – was inspired by the iconic Golden Gate Bridge. "I wanted this store to have a special mood both for the location and for San Francisco itself," explained Creative Director Jonny Johansson. "It is a large and beautiful space, and we have therefore kept the fixtures to a minimum."
What was once an old ice warehouse was transformed into a nearly 950-foot showroom, complete with a freshly-laid brick façade and floor-to-ceiling windows which highlight the "Golden Gate red" window and door frames, interior pillars and ceiling. A poured concrete floor and perimeter walls clad in milky off-white polycarbonate sheets give the boutique a raw industrial feel and are the perfect backdrop for showcasing the full men's and women's ready-to-wear collections.
"It was quite organic," said Schiller about choosing San Francisco for their latest store. "I felt there was a connection [to San Francisco]–it resonates with what we do."
Spotify Premium provided the entertainment which included live performances from three-piece alternative band LANY and British singer-songwriter Jacob Banks. The soiree continued with a family style dinner at Mission Chinese where DJ Pippa Brooks (who famously spun for Hamish Bowles' 50th birthday celebration in 2013) held court as food and drinks were stealthily passed through the crowd. The rest of the welcome wagon included creatives from other fields–celebrity stylist Mary Gonsalves Kinney, Spotify's Dave Rocco and Sofia Hansson, Gagosian Gallery's Charlie Spalding, interior designers Jay Jeffers and Michael Purdy, former Vogue editor Emily Holt, Wired's contributing style director Lauren Goodman and fashion designer Marissa Thieriot.