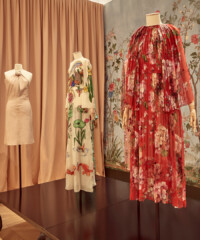 Yesterday, Gucci's creative director Alessandro Michele unveiled his latest contribution to the fashion landscape with Gucci Garden, a sprawling retail concept located in a three-story Florentine palace. The 14-century venue – the aptly named Palazzo della Mercanzia, which translates to "palace of merchandise" – originally housed the Gucci Museo, an archive opened in 2011 featuring Gucci artifacts like Jackie Onassis's bamboo handbag. Michele's reprisal adds various experiential elements – including Gucci Osteria, a restaurant from three-Michelin-starred chef Massimo Bottura.
Though it lacks a true garden, the multifaceted museum-meets-boutique contains shoppable clothing and accessories, while the winding interior pays homage to brand's history of representing the natural world through fashion. "We decided to make the space a laboratory where you have all the elements with which to creatively experiment," says curator and critic Maria Luisa Frisa, whom Michele hired to design the space. "For example, we see Gucci's passion for flora and fauna expressed through vintage and current garments, silver animal statuettes made by the firm in the '50s and original artwork by Vittorio Accornero, who was commissioned to create the Gucci Flora print in 1966."
Alongside artifactual Gucci throwbacks are new works by frequent latter-day collaborators like Jayde Fish and Trevor Andrew a.k.a. GucciGhost, and, naturally, plenty of irresistible designs. Exclusive creations, from silk bomber jackets to leather goods, feature a menagerie of iconography only available at the Gucci Garden store – from Gothic script to a new eyeball logo.
But even if you leave empty-handed, your visit to Gucci Garden won't be in vain; half of the 8-euro ticket price goes to the restoration of the city of Florence.
Main image: Facade of Gucci Garden. All images courtesy of Gucci.