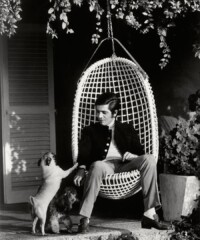 Since his retirement in 2007, 80-year-old fashion designer Valentino Garavani has been on a high-profile (and high-brow) roll. Not only was the famed couturier the subject of a 2008 film (Valentino: The Last Emperor), but his creations have been on display around the world — is early work was exhibited in 2010 at the Queensland Art Gallery in Brisbane, Australia; the Valentino Garavani Virtual Museum was launched in 2011, on computers everywhere; and an extensive exhibition of his work was on display at Somerset House in London through March, 2013.
Now, a new book, tied to the most recent exhibition of his designs, provides a very personal look at Valentino's life. Amidst images taken by photographer Deborah Turbeville are candid images from the designer's own albums and those of his long-time partner Giancarlo Giammetti.
Valentino: Master of Couture, co-written by Valentino, himself, is now available for sale. Take a look in the DuJour gallery to see a very young Valentino in his studio in the '60s, in Capri with Jackie O'nassis in the '70s, lounging in Diana Vreeland's home in the '80s and more.