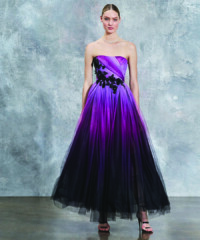 With Pamella Roland's extensive time spent seeking serenity in the Bahamas, it's no shock that the evening wear designer found inspiration in the bold, beautiful colors and flourishing island aura for her new Resort 19 collection. Roland's combination of sophisticated angular shapes with details like feathers, jewel embellishments and lush flowers define the collection's personality as fresh and fluid glamour. Signature pieces include a tulle ombré gown in light pink, a three-piece suiting ensemble incorporating a metallic sequin corset and a bright blue beaded feather cape gown (Roland's favorite). If you're looking to add to your holiday dress closet, look no further than the definition of glamour, Pamella Roland's Resort 19 collection. Here, Roland talks in-depth Bahamas inspiration and past collection styles.
What was the main inspiration for your RE19 collection?
The season is inspired by the colorful nature of one of my favorite travel destinations, the Bahamas. We channeled the aura of the islands by using color and tropical flowers in the fabric, embroideries and prints. The fluidity of the water and the sandy beaches inspired softer silhouettes, along with incorporating angular shapes and illusion insets inspired by the lush jungle of the Bahamas.
How do you think this collection differs from past presentations?
I like to think that every collection is a step ahead of the last so I am very proud of this newest line up. I think what set this season apart was the beautiful venue and selecting the right pieces that would create a jewel box atmosphere.
Are there any signature design aspects that are consistent throughout your work over the years?
Evening wear is definitely my passion and what our core customer comes to us for so I always try to deliver looks that are modern yet timeless and perfect for any special occasion.
Are there any items that stand out to you as personal favorites?
It's hard to choose a single favorite, as I love the collection as a whole but I'm particularly in love with our blue beaded feather cape gown. It's stunning and I can't wait to see it on a red carpet soon!
What sort of mood do you want the collection to portray?
We wanted to collection to feel fresh and modern but also elegant and glamorous. The bold colors feel very romantic and soft but the classic embroidery and silhouettes give each look a timeless touch.
Click through the gallery above for a peek at Pamella Roland's Resort 2019 collection.