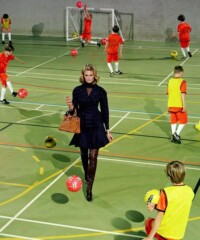 In his forward to the Rizzoli tome, which features over 100 of photographer Miles Aldridge's vibrantly hued images (in addition to sketches and studies), writer—and GQ's "Style Guy"—Glenn O'Brien refers to the world created as "Planet Aldridge." And, there is no more accurate way to describe how enrapturing Aldridge's photographs are.
His images—which have appeared in magazines such as Vogue Italia, Wallpaper, V Magazine—have a clear signature aesthetic: Most feature stoic, lacquered-looking Amazonian models, in varying shades of undress, engaging in "every-day" acts. The British photographer turns mundane chores—brushing hair, feeding a baby or taking cash out from an ATM— into utter glamour with strong lighting, high-fashion and powerful use of color.
Miles Aldridge: I Only Want You To Love Me will be on display at Steven Kasher Gallery (521 W. 23rd St., New York, NY, 10011) from May 8th  to June 8th, 2013. The accompanying book is available for $75. Take a look in the DuJour gallery to take a trip to "Planet Aldridge," and see a preview of the exhibition.