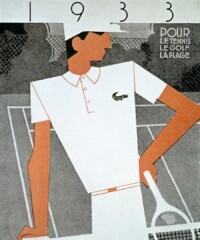 As one legend goes, French tennis champion René Lacoste was eyeing an alligator suitcase when the press—confusing its reptiles—dubbed him "Le Crocodile." The nickname stuck and proved memorable as a logo: Lacoste emblazoned the right-facing crocodile on his polo shirts in 1933.
Now celebrating its 80th anniversary, the brand nods to its origins and looks to the future with two notable new lines. Lacoste loyalists can expect a number of covetable pieces in the Edition collection, including re-creations of the popular '80s aviators and a 1963 herringbone canvas tennis shoe, plus polos inspired by rare sketches pulled from the archives. The Unexpected collection stays true to its name, giving Lacoste's well-known pieces, like the piqué polo, an ultra-playful spin.
To update the iconic logo, creative director Felipe Oliveira Baptista tapped British designer Peter Saville, who's collaborated with Yohji Yamamoto, Jil Sander and Givenchy. "It's an interesting project because it's about framing time," Saville says. "I saw that these simple circles—the '8' and the '0'—could provide the frame for Lacoste past and present." The resulting motif is prominently placed on several pieces—but no higher than the crocodile.
F
lip through our DuJour gallery to see Goyard, Boucheron and more French houses pay tribute to the Lacoste crocodile with exclusive offerings.