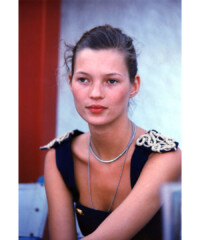 Since the late '80s, when her modeling career began at just fourteen, Kate Moss has been called a lot of names. "Waif," "anti-supermodel," "cocaine Kate." But through the tabloid headlines, Ms. Moss has continued climbing higher up the rungs of style supremacy. She's known as a true fashion idol—a living, breathing, still-working icon who celebrates her 40th birthday on January 16. It's a truly fabulous Throwback Thursday.
For decades without hardly a change of pace, Moss is still working with designers like Marc Jacobs and Calvin Klein and is still shot by photographers for every top magazine. She's just posed nude for Playboy and has a new collection for Topshop on the way. The tiny girl with exquisite features who gave buxom supermodels a run for their money back in the day has certainly come into her own as a woman. Whether she's strutting down Louis Vuitton's runway in a pair of booty shorts or posing naked in the pages of Playboy, it seems these days Moss has traded her famous affirmation—"nothing tastes as good as skinny feels"—for something a little more grown-up: "Age is nothing but a number."
As she was then and is now, there's nothing but love here for Kate Moss and her imitable style. Click through the gallery above for some #tbt's of Kate Moss on her 40th birthday.
MORE:
The Models of Calvin Klein
Christy Turlington: A Model Mom
The Return of Bridget Hall