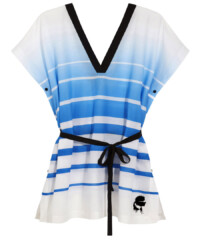 Karl Lagerfeld is lending his expert skills to Vilebrequin to create a summer capsule collection. Launching this month, the collaboration features eight limited-edition pieces of men's and women's swimwear, beachwear and beach accessories. 
Each piece is representative of both Vilebrequin's "endless summer" aesthetic and Lagerfeld's signature sophistication and modern creativity. Vibrant blues and stark whites bring to mind iconic Rivieras and coastlines, and Vilebrequin's unique, expert craftsmanship combined with Lagerfeld's inspired artistry give way to suits that will suit any beach-goer this summer. 
Vilebrequin's family values and signature 70s-style silhouettes ring true in this collection. There's a polo shirt and two swim shorts for men, and the women's pieces include a bikini, tunic and swim shorts. There's also offers a beach towel and clutch to complete the summer beach day aesthetic.
"We are proud to collaborate this season with Karl Lagerfeld, who is probably the most Tropezian of all fashion designers and one of the most influential," says Roland Herlory, CEO of Vilebrequin. "He has a modern vision of our time and this Riviera-inspired capsule collection is the reflection of it."
Each piece of the collection features Lagerfeld's signature black sketched profile. 
The collection will be available at select Karl Lagerfeld stores, karl.com, Vilebrequin stores and vilebrequin.com.