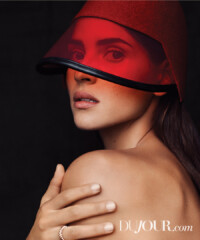 At Pier59 studios, where we're getting ready for the day's shoot, actor Adria Arjona sits serenely at the makeup station, a bastion of calm in the storm of equipment being set up and clothing being frantically unpacked. I was captivated by her effervescent personality and natural sense of style.
The half Puerto Rican, half Guatemalan beauty grew up in Mexico City traveling around with her musician father. She says of the experience: "He would play gigs at bars, and we would tag along, or he would go on tour, and you'd be living on a tour bus. That was my childhood—very artistic, free, and bohemian." It had a profound impact on her own personal aesthetic. "I got to meet all kinds of people from different cultures and ethnic backgrounds," she says. "It helped me look at fashion in a way that was a little bit out of the box; it was a way of expression, as opposed to just what's in style at the moment."
Her individualist ideas about fashion have carried over into her choice of movie roles. Now starring in the Netflix original 6 Underground, directed by action movie guru Michael Bay, the story features Arjona as an emotionally damaged medic to a team of vigilantes gathered together by a mysterious billionaire played by Ryan Reynolds. Arjona says what drew her to the role was that "she was a strong woman—not a tough one, but a strong character who is also flawed. I don't think I have played that before. I thought there was some level of realism there that I wanted to discover."
With Hollywood and the fashion industry clamoring for her attention—she recently attended her first couture show, by Dior—Arjona is on the cusp of some pretty exciting things. We can't wait to see her star rise.