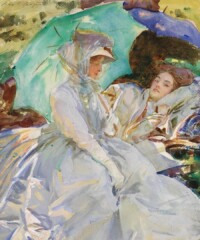 When the American Impressionist John Singer Sargent used his famous watercolors to paint stylish Edwardian society, he couldn't possibly have known that nearly 100 years later those same picturesque pastels would capture the imagination of the world's leading designers.
But just as a massive retrospective of Sargent's watercolor works going on display at Boston's venerable Museum of Fine Arts, that's precisely what's happening. Pastel clothing is having a bold moment in this new season, with coats, sweaters, bags and shoes that borrow hues from Sargent's pallet.
While an art-history degree is necessary to determine which of the artist's canvases are the most significant, picking out the greatest pastel looks for fall is a cinch; we've picked the 10 best looks for fall so your life can imitate art in a way that looks picture perfect. Click through to see—and shop—our picks.