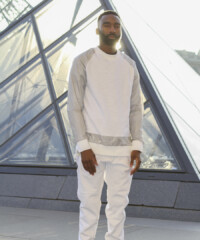 Wear a story. It's Italian streetwear brand eXkite's motto, and it also speaks volumes about the history behind each of its pieces. The brand's name stems from the fact that all merchandise is made using material from old kites. Founder Renzo Mancini and his partner (in both life and business) Eirinn Skrede, a stylist, brought their idea for eXkite to life in 2006. Mancini originally started collecting kites that were about to be thrown out during his time as a pro kite surfer. For a while, he just held on to them for safekeeping. Skrede jokes that he was just saving them until he met her—and Mancini agrees. "I never wanted to see them tossed aside, I wanted to give them a new life," says Mancini. With his collected material and passion for the sport and her knowledge of style and the fashion community, the two launched the brand.
Mancini describes overcoming challenging moments on the water as a metaphor for when there are obstacles in business. Both are difficult, but once you figure out a way through, there's a moment of bliss and freedom in each labor of love. The couple's passion is obvious. They live and breathe the business and are involved in all aspects, even helping clients at the shop in Sardinia's Porto Cervo.
The shopping experience at eXkite is as unique as the story behind the brand. Customers are given the opportunity to shop the one-of-a-kind merchandise and select items based not only on their design but also on the story of the kite used in each piece. The locations it's been to is stitched on the inside the garment, allowing customers to select items that have been places with special personal meaning—or that represent somewhere they want to go next.
Until this year, the brand hadn't made its way to the States. But that changed this spring when Olivia Kim, the Director of Creative Projects at Nordstrom, selected eXkite for the special Pop-In@Nordstrom program. The project with Nordstrom was in association with the Italian Trade Commission and the idea was to make smaller Italian brands more accessible to the department store's clientele. When asked about the collaboration, both Skrede and Mancini were visibly excited and clearly honored. While it was a great first introduction, this September eXkite will officially be available to buy in the U.S. outside of the Pop-In concept. 
They have plenty more ideas, but at they moment, Skrede says, they will "focus on what is being made now and make it the best."