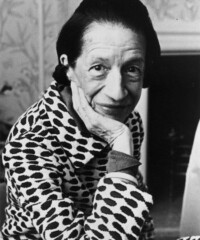 Diana Vreeland once said, "A new dress doesn't get you anywhere; it's the life you're living in the dress and the sort of life you lived before, and what you will do in it later."
She was a woman whose job was to create fantasy out of fashion, and Mrs. Vreeland's look—and the wardrobe that made it—represented a life lived in pursuit of true style. The legendary editor's clothes, much like the ones she put into the pages of Harpers Bazaar and American Vogue, are iconic pieces of fashion history, some of which you may now be able to own.
On June 25, Kerry Taylor Auctions of London will auction off several pieces of couture and accessories from Vreeland's personal collection as part of their Passion for Fashion sale. The seven pieces were gifted from her to a close family friend, and they include items like a Yves Saint Laurent wool coat featuring a small red ribbon of the Legion d'Honneur from the French State for Vreeland's services to fashion. Also for sale is an art-deco elongated cigarette holder, as well as the remains of a film-director style chair with a red "DV" emblazoned on the back. The pieces range in cost from £100 to £3000.
Who says you can't put a price on great style?
Click through our DuJour gallery to preview items in the auction.