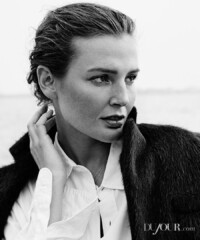 Some of the greatest moments of the '90s, as far as we're concerned, took place within the world of modeling. Mark Wahlberg dropping trou for Calvin Klein. Stephanie Seymour in "November Rain." Bridget Hall as the face of Versace. For much of that decade, in fact, Hall's beauty was the epitome of American glamour, which is why brands like Versace, as well as Gucci, Ralph Lauren, Victoria's Secret and Dior, all called on that face—and, let's be honest, that body—to showcase their lines.
After a few years out of the spotlight, Hall returns to fashion this season. Hall spent much of her self-imposed hiatus tucked away in her home on Long Island, kayaking daily. The bucolic East Hampton setting she knows so well seemed an ideal backdrop for her first editorial shoot since 2010. She agreed. "It was casual and everyone was cool, so it was a nice way to come back," she says. "It was also great to be close to home. Way better," she adds with a laugh, "than making a 5 a.m. trip into Manhattan for a job!" With a series of new projects on the horizon, though, including a high-profile collaboration with Rag & Bone, those early call times may end up back on her schedule soon.
You're getting back to work, it seems. What have you been up to?
The past three years, I've been in hiding, taking a break. Now I'm getting back into shape and getting to work again. I did something for Love magazine that just came out. I just did a campaign for Prabal Gurung.
What made you decide it was to get back to work?
I know I'm not getting any younger, so it's got to be now or never.
What did you miss the most about modeling?
I miss the traveling. Since I've been living in East Hampton, I haven't been traveling. I haven't been on a plane in a long time. I miss seeing the world.
What are you most looking forward to wearing in fall?
Jeans and hoodies, I guess. I was never much of a fashion fan, so I'm not sure how I got into this world. But I did and I have a lot of fun. Really, I'm a plain Jane.
Click through the gallery to see the shoot from our September issue.