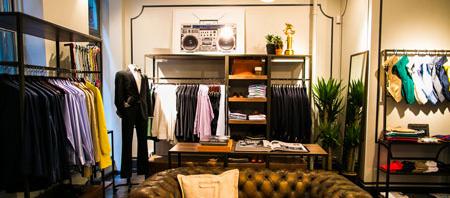 If a guy buys pants in a store, but leaves empty handed, did he ever go shopping at all? That's the question Bonobos, the web-native men's clothing store, is attempting to answer with its new ecommerce showroom in New York's Soho.
While it looks like a store—handsome clothes hanging on racks, dressing rooms, mannequins sporting the threads—and there are people who resemble sales clerks, what's really going on here is something a bit different.
Those clerks? They're called guides, and their job is to help you pick out what's going to look best on you from a selection of great looking pants, dress shirts, suits, shoes, accessories and more, to place an order for you and to have it shipped to your door. And once you know what you like, you can come back to the storefront or just log into the Bonobos website and order yourself.
All of the items adhere to that guiding Bonobos principle of taking classic menswear and tweaking it. Washed chinos are just like everyday khakis, except with a tailored fit and fun touches like contrasting pockets; the dress shirts are great for work, but fit in all the right places with no unfortunate blousing.
So while you could order any of the Bonobos products online, visiting the showroom means expert advice from a guide and a chance to get up close and personal with the clothes. So even if you'll inevitably leave without a shopping bag, this might still be your new favorite store.