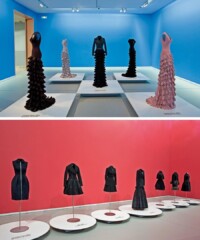 Azzedine Alaïa is considered to be one of the greatest living designers for many reasons, but perhaps the most prominent is that his timeless designs simultaneously exploit and compliment a woman's figure. And while expert cuts have always been his M.O., each piece wouldn't be the same without his masterful use of fine textiles and materials. It is fitting, then, that the NRW–Forum in Düsseldorf, Germany will display an exhibition (previously at the Groninger Museum in the Netherlands) focused on just that. From June 8th through September 8th, Azzedine Alaïa in the 21st Century will feature a collection of the Tunisian-born designer's best work from the last decade, with each collection categorized by each of the designer's preferred materials, which include fur, velvet, wool, leather, cotton, animal skins, chiffon and knitwear.
All of the pieces, loaned directly from the designer's personal archive, pay homage to Alaïa's plays on shape and tight textures from the last decade. It's an intriguing look at recent fashion history, and an intimate visit with the clothes that helped turn the him into "The Kind of Cling."
Take a look in the DuJour gallery for a preview of the exhibition.