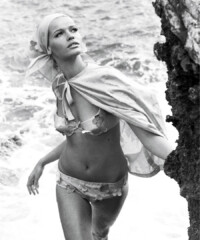 Richard Avedon named her "the most beautiful woman in the world." In 1967, Life Magazine put her on their cover, calling her "the girl everybody stares at." But if a single word is needed to describe the German Countess Veruschka, born Vera von Lehndorff, we'd say it's transformative.
Formerly unseen pictures by Johnny Moncada, discovered after his death and now collected in a new book out this month called Veruschka: From Vera to Veruschka (Rizzoli,) give us a vision of Vera just before she became Veruschka. They were taken throughout Italy when she was 24, two years before her cameo in the cult film Blow-Up, which propelled her to fame. In these images she is sinuous, limber and delicate—altogether softer than the imposing "Amazonian Barbie" with jutting cheekbones who would go on to grace the cover of Vogue eleven times. Today the supermodel—who spent the latter part of WWII in German labor camps after her father was hung for leading an assassination attempt on Hitler's life—is known as the face of '60s-era sensuality.
After one photo shoot with Moncada in 1964, Vera wrote to her mother. She said: "Having a look of sadness in my eyes is my biggest problem in this job…I have to do almost everything to hide it. The other day I worked with an Italian photographer who allowed me to be myself—even if that meant looking sad or melancholy. Can you imagine this? I cannot tell you how liberating this is."
Click through the gallery above to see photos from inside Veruschka: From Vera to Veruschka.
MORE:
Anne V: The Supermodel Next Door
The Models of Calvin Klein
Coco Rocha: A Model Citizen