Relationships have always been a huge part of Samantha Daniels' career, but she hasn't always been a matchmaker.
"I used to be a divorce attorney," she says. "I was helping couples break apart, which didn't feel like a happy place."
Finding more fulfillment building relationships for her friends, Daniels started her own matchmaking business, Samantha's Table, to assist high-end singles find love. After finding serious success in that endeavor, Daniels launched The Dating Lounge, an uber-exclusive dating app that requires an invitation or referral to join.
"The logo is a red velvet rope, like when you go to a private club," Daniels says. "It's the same kind of feel, and all different types of people get in for various reasons."
The app—which boasts a waitlist of more than 10,000 people—has been very well received and is a true testament to Daniels' expertise in the industry. Here, she shares her best tales from an illustrious career.
What's The Dating Lounge all about?
It's an exclusive community for friends of friends to meet each other. I created an algorithm where members could choose what they absolutely must have in a person and they can specify over 15 different match settings. You can say, I'd like to meet a man or woman aged between 27 and 35 who went to Harvard, works in venture capital, is from Philadelphia, Jewish and likes to play golf. With a push of a button, the app will show you matches that fit those exact specifications.
We also have an "Ask the Matchmaker a Question" section, so any member can ask me a dating question, a question about their profile or about their matches. I'm involved from all different directions in that way, which makes it feel much more personal than any other app out there.
What's the demographic of members?
They are social, very successful and educated individuals. They work hard and they play hard. Income levels are very high and most are very involved in philanthropy.
What's your "secret sauce" for matchmaking?
It's a secret, but it really takes into consideration a lot about someone's background and what they really need versus what they think they need. I've taken what I've learned from listening to people—what they like and what they don't like—watched what works in relationships and have concocted a solution to mimic that in the Lounge.
What's the most rewarding aspect of your job?
I'm helping people find love and that always feels really great. It's like a puzzle and you have those last pieces and you put them together and you're like, "Wow I finished!" I become good friends with a lot of my clients, and I get to see them interacting with each other and see all those sparks flying and it's special to be a part of it.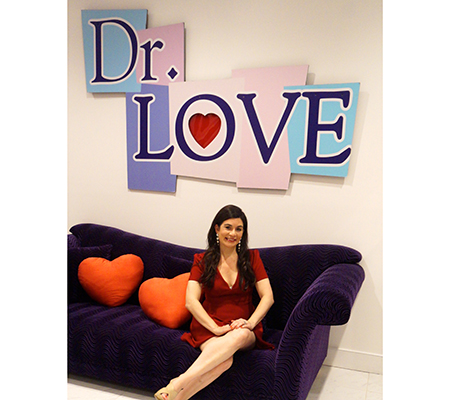 Do you believe in love at first sight? 
I think I do! I think that two people can fall in love at first sight, but I think it depends on what you do with it from there. At the end of the day, relationships take work. You can feel that je ne sais quoi the moment that you meet somebody, but what are you going to do with it? Are you going to make decisions that work? Are you going to make sure that you have things in common? It all needs to fall into place.
What's the best piece of advice for someone looking to find the one?
My grandmother always told me that if you get invited somewhere, go. I really believe in that because you never know who you're going to meet.