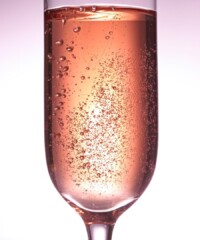 There's a distinct moment in New York City every spring when the temperature rises and women bare their legs, dine al fresco and switch from reds and whites to rosé. Recently, rosé has experienced a major image overhaul—what was once regarded as a down-market byproduct of red wine is now a sexy, refreshing summer staple.
"For years, the skepticism surrounding rosé was justified. A lot of what was available wasn't very interesting," says Joey Campanale, partner and executive beverage director for New York City restaurants dell'anima and L'Artusi. "It was sweet and fruit-forward, with not much else going on. But now winemakers are creating these soulful, beautiful rosés that are unique to where they come from, and there's been a huge uptick in popularity over the last few years. Once the weather gets warm, we can't keep rosé in the house.'
Master sommelier Bobby Stuckey has witnessed a similar shift on the West Coast. Stuckey, a partner and beverage director at Frasca Food & Wine in Boulder, Colorado, previously spent five years at Aspen's The Little Nell, followed by a three-year stint at The French Laundry in Napa Valley. "It's crazy!' he says of the demand. "It used to be nearly impossible to sell. You'd put one rosé on your wine list, and you'd pray to have the last bottle sold by Labor Day weekend. Otherwise, you'd be sitting on it until the next summer.'
In 2012 alone, sales of imported rosé in the U.S. grew by 23 percent. According to Campanale, the best rosés are made in much smaller quantities than other wines. He adds, "It's the only wine where the distributors will get in touch with me in February and say, 'This is what we have coming in stock. Plan your orders accordingly, because it's going to sell out."
There are several different approaches to producing rosé, but traditionally, winemakers press the grapes and leave them in contact with the skin for a short period of time (between 12 and 36 hours). Then the skins are removed, and the remaining liquid takes on the wine's characteristic blush hue. The specific type of grape varies by region: In Provence, Grenache and Syrah are common, while a rosé from Spain might be derived from the Tempranillo grape. Sparkling rosé is typically made by blending a small percentage of red wine with a white wine base. The higher percentage of red added, the darker the rosé. Though it's difficult to generalize a single flavor profile, both still and sparkling rosés tend to be a bit dry, with fruity aromas ranging from berries to watermelon and pomegranate. Want to know more. Just in time to address all of your pink drinking concerns is DuJour's rosé primer.
What kind of cuisine does rosé pair well with?
While white wines tend to work better with seafood and red wines are best for meat, rosé is the rare wine that suits almost about any cuisine. One of Campanale's favorite pairings for sparkling rosé? Chinese food. In general, he says, "If you have an assortment of food on the table and some pair better with a white and others pair better with a red, then rosé is the perfect middle ground."
What foods work well with still rosés? Sparkling?
Summer produce like corn, tomatoes and strawberries are high in acidity, so wine should have less acid to balance them. "Still rosés usually have a little less acid, so they go well with vegetables and salads of the summer,' says Stuckey. "Sparkling wines, particularly sparking rosés, might have a little more acidity than still wine,' so they work better with foods that are salty or lightly fried. Besides Chinese food, Campanale recommends pairing sparkling rosés with sushi and fried food: "Sushi and fried food couldn't be more different—one is light and fresh, the other super-rich and oily—but sparkling wine goes equally well with both.'
Should rosé only be enjoyed in the summer?
Because of its versatility, Campanale thinks that people should drink rosé year-round. "It's great that people are drinking more rosé, but everyone thinks the drinking window is from the first warm days of the spring until early September," he says. "But if you're going to drink a white wine in the winter, why wouldn't you drink a rosé?'
What's the best way to choose a bottle?
Campanale and Stuckey agree that the most important thing is to ask for suggestions, even if you're well-versed in wine. "I'm always amazed by people who come in and say they don't need any help navigating the wine list because they're 'experts.' This has been my business for 20 years, and I still don't know everything,' says Stuckey. "Find out what you like. Do you prefer the bitter, darker, more forceful rosés from California? Or are you more comfortable with something from France? Be sure to tell the sommelier. Whether you're a beginner or an expert, the customer's job is to ask.'
Do the best rosés come from overseas?
Contrary to popular belief, some of the finest rosés are produced domestically. "It's surprising, but in America there are some really delicious rosés," says Campanale. "Robert Sinskey in Napa is a standout, and it's completely biodynamic. Donkey & Goat's rosé in Berkeley is also really excellent, as well as Lieb Cellars liebcellars.com in Long Island.'
Is rosé just for women?
"Years ago no one took it seriously, but attitudes about rosé are changing. Maybe some guys still find it to be effeminate, but I don't think so,' says Campanale. "I think real men drink pink.'