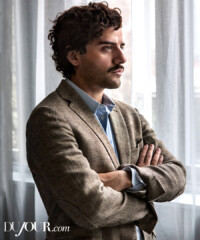 In 1981, it was no walk in the park to live in New York City. Over the course of 12 months, the city was reportedly home to over 2,000 murders and more robberies than ever previously committed. Cupcake shops were not opening on a regular basis. In director J.C. Chandor's A Most Violent Year, businessman Abel Morales (played by Oscar Isaac) attempts to navigate these brutal waters as his fortunes swell and the target on his back grows to keep pace.  
More than 30 years later in a very different New York, Isaac himself is in the midst of an impressive ascent—albeit one marked by a lack of circling thugs. While the chorus of adulation for Isaac's role in A Most Violent Year is still resounding, the Guatemalan-born actor doesn't seem interested in pausing to enjoy it. In the coming months, he'll appear opposite Mark Wahlberg and Garrett Hedlund in Mojave, he'll star in the artificial intelligence thriller Ex-Machina and he'll be deified by nerds everywhere for his roles in J.J. Abrams' upcoming Star Wars: Episode VII – The Force Awakens as well as Bryan Singer's X-Men: Apocalypse.  
It's an impressive slate for the Julliard graduate, but he says each of the films was one that he just couldn't pass up. "Being asked to inhabit the psyche of someone over a period of time, it's got to be a bit like falling in love," he says. "You know, you can't really quantify exactly why you want to play a particular part, but it's something you just keep thinking about, that doesn't leave your mind. That's the barometer in how I choose a role." 
Still, Isaac's quick to admit that choosing a job that involves light sabers is remarkably easy.
"Not only are there these iconic props, but the sets, vehicles, droids and all these characters—you're interacting with the characters that have been a part of everyone's life for such a long time," he says of Star Wars, for which he plays X-Wing fighter Poe Dameron. "Sometimes I pinch myself because it's actually happening; it's wild! But it's funny, because you still have to do the same job you're hired to do, which is between 'action' and 'cut' to be alive, be truthful and tell the story." 
Isaac, who got his big break in the 2013 Coen brothers movie Inside Llewyn Davis, says there's no one sort of character or film that he finds appealing.
"In film it's not the same as in theater, where you're like, OK, I definitely want to give Hamlet a crack, or I want to play Willy Loman," Isaac, who admits he aspires to one day direct, says. "There isn't so much that one that I'm looking to do, it's more about working with certain directors and finding stories that are compelling." 
That was certainly the case with Chandor and A Most Violent Year.  Isaac's Morales is an up-and-coming oil titan whose fleet of trucks—not to mention his family—is being terrorized by his competitor's goons, but who refuses to lower himself to their level. It was a mindset Isaac took pains to understand. 
"I had some issues figuring out why he was making his decisions," Isaac says, "particularly the nonviolent choices, like why he felt so strongly against getting a gun to protect himself even though he was getting threats from all sides, and against his family." 
He goes on: "I think you learn something from all the characters. Abel had a bit of the sociopathic nature of people who are so focused on success, particularly financial success. I had to lose empathy, I think, for what it was worth." 
When it comes to Isaac's own thought process, things are a bit less murky. With A Most Violent Year behind him, the actor is asked whether 2015 was shaping up to be a most anything kind of time. "I'm not a New Year's resolution type," he says, "but my goal is not getting in over my head with my work." 
Considering the demand for Isaac and the year he has ahead, that might be no more than wishful thinking.
Photographed on location at Smyth – A Thompson Hotel.