Maggie Lindemann has been enjoying her digital fame since she was 16 years old. Albeit she's a mere 19 years old now, the evolution of her musical style has propelled her into an even bigger realm of stardom. Celebrated as an "anti-pop star," Lindemann proves herself through electric pop music infused with cheeky lyrics.
Lindemann's latest single, "Obsessed" offers fans an authentic look at Lindemann's attitude and self-awareness. "It's about a guy or girl being obsessed with themselves," she explains. "But, it's not necessarily a bad thing, being obsessed with yourself," she adds. At the end of the playful song, the singer admits that she is obsessed with herself as well.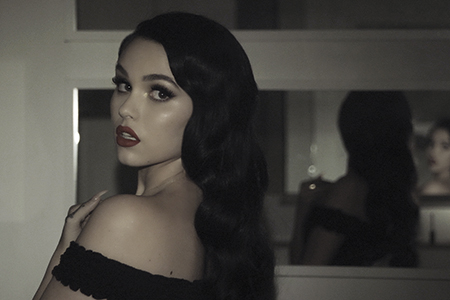 "I wanted it to be more badass," she says of "Obsessed," the follow-up to her global hit "Pretty Girl." "Pretty Girl" was released in 2016 and has been certified Gold and Platinum in 12 countries, been remixed by Cheat Codes, Taylor Wise and others and truly propelled Lindemann into her success. "I was super nervous about the follow-up song because of the way "Pretty Girl" went," Lindemann says of the pressure she felt before releasing "Obsessed." She adds, "But, I'm so happy with the way "Obsessed" is doing." The young starlet has several reasons to be happy. So far, the song has charted all over the world and has catapulted Lindemann's monthly Spotify listeners to over 8 million a month.
To coincide with the success of "Obsessed," Lindemann was announced as the star of British makeup artist Pat McGrath's "So Obsessed" campaign, a new collection of beauty products available exclusively through Lindemann's Spotify profile. Spotify partnered with Merchbar to allow fans to instantly purchase the Pat McGrath Labs products featured in the collection. The provocative collection includes cult-classic shades and vibrant eye colors packaged in graphic and dramatic styles. On being able to collaborate with McGrath, Lindemann says, "I love makeup and Pat McGrath is so awesome. As soon as we met I fell in love. I mean, she's Pat McGrath so it's pretty amazing." McGrath was celebrated as the most influential makeup artist in the world by Vogue and has worked with designers such as Miu Miu, Dolce and Gabbana and Prada. With an adventurous spirit and rebellious style, we are obsessed with this new line.
Following this creative collab, Lindemann plans on carrying the artistic energy into the New Year with a tour and some new and exciting plans.