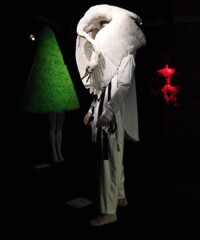 No, the title of the new exhibit at La Gaîté Lyrique in Paris, ArrrGH! Monstres de Mode, is not a French adaptation of a particular Nickelodeon series.
But animated cartoons – in a more general sense – did influence the exhibition, which includes 80 pieces by some of the world's most avant-garde fashion designers and is the result of a collaboration with Greek art collective Atopos CVC. "Most of the designers included in ArrrGH! came of age during the height of the Saturday-morning cartoon era," curators Vassilis Zidianakis and Angelos Tsourapas explained, "and clearly look to it 
as their inspiration and reference for collections and fashion shows."
And thus, prominent names like Martin Margiela, Walter van Beirendonck, Alexander McQueen and Rick Owens are included amongst less well-known designers. "Of course, fashion exists in a very commercial sphere at the top end, but we're more interested in artists who are still making their name, who aren't yet well known but who are developing, thanks to the Internet, without being aware of their influence," said Zidianakis and Tsourapa, "Lady Gaga illustrates a good example of this phenomenon."
The combination of both fear and creativity, fashion and art comes to life in the exhibit through masked and elaborately-behatted mannequins. We think Lady Gaga and her little monsters would approve – especially of the festive, accepting atmosphere. "Come to the exhibition wearing any mask you like!" Zidianakis and Tsourapas said, "We'll be very happy."
ArrrGH! Monstres de Mode is on display through April 7th.